Inaugural Undergraduate Literature Conference a Success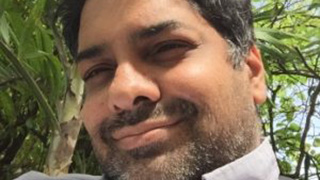 Manu Samriti Chander
On April 21, 2023, the English Department at Seton Hall University hosted its inaugural Undergraduate Literature Conference on the theme of "Literary Justice." Contributors were asked to consider how the pursuit of literature can contribute to our understanding of justice. As the CFP for the conference observed, justice and literature have long had entwined histories: nineteenth century Americans argued that a literary education was necessary to cultivate informed, empowered, moral, and considerate citizens for a healthy democracy, and that the literary tradition was an education in liberal individualism. More recently, claims for the restorative power of literature have been made by philosophers such as Martha Nussbaum and Jurgen Habermas, as well as ecological philosophers, critical race theorists, and anti-colonial activists.
The keynote speaker for the event was Manu Samriti Chander, associate professor of English at Rutgers University, Newark. Chander is the author of Brown Romantics: Poetry and Nationalism in the Global Nineteenth Century (Bucknell, 2017) and co-editor, with Tricia A. Matthew, of the Oxford University Press book series Race in Nineteenth-Century Literature and Culture.
The conference, organized into four sessions, featured papers by students from Princeton University, Columbia University, Monmouth University, Caldwell University, Sacred Heart University, and William Paterson University, as well as Seton Hall. The topics on which the students presented was an engaging mix that included such titles as "Sins of the Flesh: The Fall of Racial and Sexual Hierarchies in Early Modern Drama," "Anne Hutchinson: A Threatening Daughter of Eve," "World Literature and World Legislation," and "Letting Go in Never Let Me Go: Dehumanization and Humanization of Clones as Capital." The conference concluded with a reception for the presenters and attendees.
Donovan Sherman, Chair of the conference committee, observed, "Oftentimes, conferences are reserved for professors and graduate students. But undergraduate students also have important work to share; indeed, their voices are oftentimes vital and important, demonstrating new and fresh ideas. The excellent young scholars who attended this conference show us that our field is in good hands, and we were proud to offer them the opportunity to express themselves." The other committee members included department faculty Elizabeth Redwine, Kyle McAuley, and Mary Balkun.
In keeping with the English Department's desire to make this an annual event, plans for the 2024 undergraduate literature conference will soon be underway.
Categories: Education