Shakespeare Expert Says Passion Can Be Parlayed Into a Successful Career
Thursday, March 16th, 2023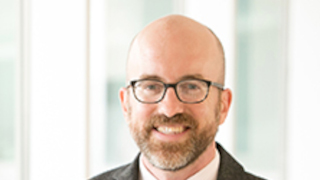 Donovan Sherman, Ph.D., is an associate professor in the Department of English and a Shakespeare expert and author.
Donovan Sherman, Ph.D., a prolific author and literary theorist with a research focus on Shakespeare, says that an English degree — especially a master's in English — is the type of education you can use to add value to any career you pursue. "Every employer needs people with strong critical thinking and writing skills," he says.
Sherman, an associate professor and the director of graduate studies in the Department of English in Seton Hall's College of Arts and Sciences (which houses many authors and creative writers and offers a master's degree in English that allows students to concentrate in literature), says he took an "unorthodox" path to his own career.
"My undergraduate work was in theater, and I really thought I wanted to be a performer," he says. He initially found work as an actor at theaters throughout the Northeast and in Chicago. "But I found that I was drawn to analyzing the works we were performing and thinking critically about how we were speaking the words in plays. I loved thinking about the history of plays."
Sherman spoke about his interests with a mentor, who suggested he pursue a graduate degree in dramatic literature. That led to a doctorate from the University of California, Irvine, where he became fascinated with the philosophical question of how souls are represented in the performing arts and dramatic literature.
Shakespearean works appealed to Sherman as an ideal platform for examining how performers embody the characters they play. "Shakespeare wrote things for actors to say out loud, on their feet, up on stage, and for people in the audience to have a good time listening to," he says. "My Ph.D. dissertation focused on the question of how human souls were represented on that stage in Shakespeare's time, and how that translates to present-day performances of his works. If a soul, something that you cannot see or hear, is essential to who you are and it separates a person from being a rock or lizard, how do performers demonstrate that?"
After earning his Ph.D., Sherman joined the English faculty at Seton Hall. "Teaching hits every single aspect of what I love. I think about performance as something that we do all the time; there's a role and ritual aspect to our lives, and I have a role that I perform every time I deliver a lecture to a class," Sherman says. "Is there any greater audience than college students in a 9 a.m. Monday lecture, who I want to focus intently on what I'm teaching?"
He is a prolific writer, editor, and author. Most recently, he coedited two new books: Shakespeare and Virtue: A Handbook (Cambridge University Press, 2023), a collection of 38 essays considering how ancient, modern, religious and global virtues intersect with Shakespearean works, and Early Modern Liveness: Mediating Presence in Text, Stage and Screen (Bloomsbury Publishing, 2023), which explores the element of "live" performance, how the experience of live performance has changed over time and how the liveness of today's adaptations of Shakespeare and other early modern plays compares to the way audiences experienced live historic performances.
Sherman also recently authored The Philosopher's Toothache: Embodied Stoicism in Early Modern English Drama (Northwestern University Press, 2021), in which he searches Shakespeare's plays for signs of Stoicism, a classical philosophy that relates contemporary ideas of mindfulness and attempts to answer the question of how to live a good life without anything gratuitous. "All of Shakespeare's characters are fully fleshed-out humans," he says. "He couldn't help but make them feel familiar and relatable to us."
As Seton Hall's director of graduate studies in English, Sherman makes it priority for the department to tailor the master's program to fit the unique goals of each individual student.
"I want graduate students to know the department is here for them. We want to know what you're reading, what you're writing, what conferences you'd like to attend. You tell me what you love, and we figure out how to help you do that."
To help M.A. in English graduate students cover their tuition, Seton Hall offers uniquely competitive funding opportunities and a robust teaching assistant program.
The biggest value in English and other humanities, including history and the arts, Sherman says, is they allow people to flourish as complete humans. "If you've ever fallen in love with a piece of literature, there could be a future for you in English studies. Drop me a line and we'll talk about it. Whatever you do, don't dismiss the thing that you love, especially when that passion can be parlayed into a successful career."
Categories: Arts and Culture, Education