Petersheim Academic Expo Honors 27 Years of Innovation and Scholarship
Thursday, April 13th, 2023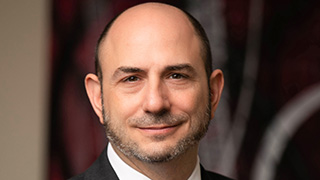 Carl Lejuez, Ph.D., Provost of Stony Brook University, will present the keynote address for the Expo.
In its 27th year, the 2023 Petersheim Academic Exposition "Share, Honor, Unite" will take place on Monday, April 24 – Friday, April 28, 2023. This annual celebration of scholastic accomplishments involves the entire Seton Hall University community including undergraduate and graduate students, faculty, administrators, and staff from among the various disciplines.
Throughout the week, students in coordination with faculty sponsors and faculty will present their work in research symposia, poster sessions, presentations, panel discussions, theatrical performances, art exhibits, debates, concerts and more. The Expo honors the innovative spirit of Matthew Petersheim, Ph.D., associate professor of chemistry, who passed away in 1998. View the 2023 schedule of events here.
Registration is now being accepted for the Opening Ceremony of the 2023 Exposition, from 12–2 p.m. on Monday, April 24, in Bethany Hall.Carl W. Lejuez, Ph.D., Provost of Stony Brook University, will present the keynote address, "Putting Your Money Where Your Strategy Is: Aligning Academic Budgets with Academic Priorities." The gathering will also feature a certificate ceremony honoring students who participated in the BIG EAST Undergraduate Research Poster Symposium.
The event is sponsored by the Office of the Provost, College of Arts and Sciences, Division of Student Services and The Institute of Neurolmmune Pharmacology with assistance from theDivision of University Relations. In-person seating for the opening ceremony and luncheon is limited and registration is required. RSVP here.
As Provost and Executive Vice President for Academic Affairs, Carl W. Lejuez, Ph.D. serves as Stony Brook University's chief academic officer. Lejuez oversees the academic mission of the university, providing direct supervision for all academic units, support services and operations, including enrollment management and student success, and coordinating all academic programs.
Prior to his affiliation with Stony Brook, Lejuez served as provost and executive vice president at the University of Connecticut as well as the dean of the College of Liberal Arts and Sciences at the University of Kansas, where he also served the university as interim provost for two years. He spent the bulk of his academic career at the University of Maryland, where he was a professor in the clinical psychology program in the department of psychology and where he served as an associate dean for research for the College of Behavioral and Social Sciences. His other academic appointments include research professor at the Warren Alpert Medical School of Brown University, and an adjunct faculty member at the Yale Child Study Center in New Haven, Connecticut.
Lejuez's research focuses on the use of basic laboratory research findings for the development of behavioral interventions to address a wide range of psychological conditions including mood disorders, addictions and personality disorders for marginalized and underserved populations. At Maryland, he founded and led the Center for Addictions, Personality and Emotions Research. Lejuez has received grant funding from several sources for his research and is widely published, having also served on several editorial boards and having been a founding editor of the publication Personality Disorders: Theory, Research and Treatment. Moreover, he is the co-editor of the Cambridge University Press Handbook of Personality Disorders and currently has a contract with Oxford University Press for a book about a transdiagnostic behavioral therapy he has developed to be part of their "Treatments that Work" series. He proudly carries the distinction as a first-generation student. He holds his M.A. and Ph.D., both in clinical psychology, from West Virginia University, earning his B.A. in psychology from Emory University.
A Multitude of Events
The Closing Ceremony of Celebration and Awards Ceremony will be held from 3:30–5 p.m. on Friday, April 28, in McNulty Hall Amphitheater. Monica Burnette, Ph.D., Vice President of Student Services, will present the keynote address, "Academic Engagement and Student Success."
Among the many inspiring events will be two sessions on Tuesday, April 25, that address ethics across disciplines and bioethics research. The first session, from 10 to 11 a.m., features experts from diverse fields exploring ethical considerations within their own disciplines, as well as possibilities of commonalities across different kinds of ethical considerations and ethics research. Panelists from all corners of the University come together with the hope of gaining a better understanding of what ethical issues are facing members of different disciplines and whether there are common, human ethical challenges that, as one university, all might work together to solve.
Ethics Across the Disciplines: Expert Faculty Session, organized byBryan Pilkington, will feature a welcome from Jonathan Farina and prayerful reflection from Father Colin Kay: "BE the right thing." The expert faculty panel includes:
LaMar Bolden, Assistant Professor, Department of Occupational Therapy, discussing "The Impact of Professional Identity on Ethical Tensions in the field of Occupational Therapy"
John Buschman, Associate Provost for Research and Innovation and Dean of University Libraries, discussing "Information Ethics and Fundamental Democratic Challenges"
Sulie Chang, Professor, Department of Biological Sciences, discussing "Scientific Integrity"; and
Madison Krall, Assistant Professor of Communication, discussing "Health Communication, Ethics, and Everyday Encounters."
The session will be virtual, and follows on the success last year's ethics keynote, "Virtues of Inquiry Across the Continuum: The Need for Ethics in Research at Every Level."
Following that session, from 11 a.m. to 12:15 p.m., student scholars will offer a virtual Bioethics Research Session, organized by Bryan Pilkington, and present new research in the field of bioethics. Topics of student research include bias reduction, ethical approaches to addressing linguistic diversity, care for the dying, and pediatric bioethics.
Events are still being added to the schedule, so please visit the schedule of events to learn more, view event locations and access virtual sessions.
Categories: Education, Research