Freshman Pre-Med Student Awarded Sallie Mae Bridging the Dream Scholarship
Wednesday, November 16th, 2022
Jiya Sharma follows her dream to help vulnerable patients worldwide.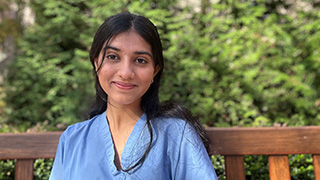 Jiya Sharma, Sallie Mae Fund scholarship awardee, follows her dreams to pursue global health.
Jiya Sharma, a Paramus, NJ freshman biology major in Seton Hall's pre-med joint degree program, was selected for one of 25 $10,000 scholarships from The Sallie Mae Fund Bridging the Dream Scholarship Program in partnership with the Thurgood Marshall College Fund. More than 1,000 applicants from underrepresented or historically underserved communities around the nation applied for this support to help access higher education.
"Education is a powerful force and can be a great equalizer, and we're committed to opening the doors of higher education to more students from all backgrounds. Assisting students like Jiya on their path to college is what The Bridging the Dream Scholarship is all about. We're proud to support what we know will be an exciting journey for her at Seton Hall and a bright future ahead," said Rick Castellano, Sallie Mae spokesperson.
Jiya attended a public magnet high school, Bergen County Academies, where she started toward her goal of medicine, interning at the Hospital for Special Surgery, a New York orthopedic hospital where she received hands on experience with suturing, different surgical procedures and time spent in the cadaver lab.
"When I was a senior at Bergen County Academies, I was looking at what schools I wanted to apply to. I always knew that I wanted to go into public health of some kind, global health, because one of my personal goals is working as a physician who would help in more under resourced areas. You know I see myself joining organizations in the future like Doctors Without Borders," Jiya shared.
Her high school college application process led Jiya to The Bridging the Dream scholarship. She said that she was excited to learn that she had received it.
"This scholarship just lifts a lot of weight off my shoulders. I think especially in the future, going to medical school, that's expensive in itself. Being able to offset some of those costs early on is important," she explained. She added that the scholarships she has received directly from Seton Hall also have made a significant difference.
Her college search process led to Seton Hall where she discovered the innovative joint bachelor's-M.D. program at the College of Arts and Sciences. The knowledge that she'd be in an excellent program exclusive to Seton Hall provided her with the security of a guaranteed interview at the Hackensack Meridian School of Medicine. She also was attracted to its location in the Northeast, near New York.
On the pre-med track, she is also taking the medical humanities minor.
"Programs like Doctors Without Borders go to more under resourced third world countries and that's just something I see myself doing. And I think a big part of that is understanding what health care looks like across different communities across different backgrounds. And that's important to me. Understanding the more humanistic side of medicine rather than just focusing on the science of it is really important for me."
Jiya's mother, Amita, a beauty salon small business owner, is Jiya's hero for all her hard work caring for the family on one income. Her daughter helps her at the salon on weekends when she is able.
"I think the connection that it comes back to is that I also grew up in a low-income family and my dad and my brother have had a variety of health issues and that's kind of what pushed me to, you know, to orient myself towards a career in medicine."
From the early age of about 7, Jiya helped care for her brother and his health issues, which included severe allergies and asthma. She would carry a designated bag to give him his Benadryl and EpiPens.
"I think being a physician just enables me to have more control and more of an in-depth understanding of medicine. But that was a big turning point for me."
She's witnessed family struggles with mental health issues, which also taught her about caring for and dedication to those in need.
A first-generation student of Indian background, she wants to help people from her own background and those of similar backgrounds around the world.
"My parents were born in India and they would tell me stories about growing up in India, which is a developing country. There are regions of India that are very progressed, but there are still regions that are lacking and have certain needs and medical needs. I want to go back one day and help in that respect."
While still early in her academic career, she praises the support she has received as a woman in STEM, especially from her general biology teacher, Angela Maresca Baglio. She is grateful for that mentorship.
"I am so happy to hear of this honor for Jiya. She is such a pleasure to have in my class. Although I have only known her for a short time, her genuine interest in topics discussed, as well as her dedication as a student is very evident. Jiya is always engaged, interested, and frequently looking to learn more or delve deeper into the material for an even greater understanding," said Professor Baglio.
Georita M. Frierson, Ph.D., Dean of Arts and Sciences and Professor of Psychology, congratulated Jiya on her achievement, especially winning this prestigious scholarship.
"We are so proud of Jiya, and we look forward to continuing to support her journey at SHU. With Jiya's passion and dedication, we are confident she will have a bright and successful future," she said.
Jiya is gathering personal experience volunteering with a pulmonologist in Wayne, NJ. The clinical research includes studying pulmonary patients and nodes on the lungs to see whether they are benign or if there is relationship to cancer.
For the immediate future, Jiya looks forward to getting into her medical humanity-based classes and getting more involved with clubs on campus. Seton Hall's focus on servant leadership is important to her. She expressed a desire to participate in Division of Volunteer Events (DOVE) with the Pillar Care Continuum (formerly Cerebral Palsy of North Jersey), which is dedicated to enhancing the lives of people with disabilities and other special needs by supporting personal growth, independence and community participation.
Categories: Health and Medicine