How Environmental Studies Students Spent Their Summer
Thursday, September 1st, 2022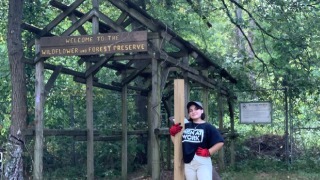 Emilie Wigchers at South Mountain Reservation
Summer is a time to refresh and recharge, but it also a time to pursue new opportunities. For students in the Environmental Studies program here at Seton Hall, the summer is an especially ideal time to get outdoors and engage in research projects, internships and other activities.
One of the hallmarks of the Environmental Studies curriculum at Seton Hall is its focus on experiential education. Students in the program are encouraged to apply the knowledge they gain in the classroom to real-world situations and to gain practical, on-the-ground experience as they seek to promote environmental awareness and sustainability locally and globally.
Thomas Rzeznik, Ph.D., the director of the Environmental Studies program, reached out to students to ask about their summer activities and achievements. The following is a sampling of just some of their remarkable stories.
Clara Cusanelli, a Senior Environmental Studies major from Fairfield, Connecticut, spent her summer working at Ambler Farm in Wilton, Connecticut, a community-owned farm committed to regenerative agriculture. She worked with the farm's summer camp program teaching children about farming practices and the benefits of employing sustainable techniques. She also helped coordinate educational activities that helped them learn about natural cycles and to see – and taste – the farm-fresh foods being grown in their local community.
Clara also received word that her paper, "Forest People Without a Forest," which looks at the effects of palm oil cultivation on indigenous peoples in Indonesia, has been accepted for publication in Locus, Seton Hall's undergraduate research journal. She will be spending the upcoming fall semester studying abroad at University College Cork in Ireland.
Emilie Wigchers, a Senior Environmental Studies major from New Berlin, Wisconsin, held a paid summer internship at the South Mountain Reservation, a county park and forest preserve that runs through South Orange and several other communities in Essex County, New Jersey. As part of her responsibilities, she and her coworkers worked on the reservation's "Tree Project." They went around the reservation and mapped out trees to create a tree trail guide for visitors. "We're hoping that the introduction of new projects like this one will draw more people to the reservation and help them learn more about forest restoration efforts," she explained.
Last semester, Emilie studied the effects of microplastics on marine ecosystems in partnership with the Plastic Wave Project. She helped collect environmental samples in Asbury Park and other New Jersey shore points as part of her Environmental Studies capstone project. After graduation, she intends to pursue a master's degree in marine science.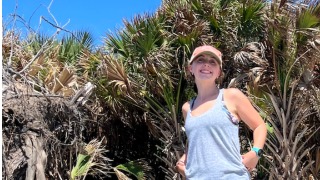 Amelia Carson at Famous Adventures in Charleston, South Carolina
Amelia Carson, a sophomore Environmental Studies major, worked as a camp counselor at Famous Adventures in her hometown of Charleston, South Carolina. The camp encourages children to spend time outdoors and to teach them about "the amazing natural life around them in Charleston and how to treat and take care of it properly," she stated. She further commented how the camp emphasized practices like "leave no trace" and tried to make it clear to participants why such habits mattered.
Finally, Isaiah Martinez, a senior Environmental Studies student from Philadelphia, spent his summer completing an internship at the C.J. Brown Reservoir in Springfield, Ohio, a recreation site maintained by the U.S. Army Corps of Engineers, where he served as a summer ranger. The position involved assisting with land management, environmental data collection, and general park operations. It also provided him with an opportunity to learn about the government's role in environmental stewardship.
The best part of the experience was "being able to be called a park ranger, even if just for a season," he said. The uniform and the badge served as signs of authority, but they also instilled in him a sense of responsibility for the park and the land. Through his efforts, he felt he was "contributing to environmental conservation, which is what matters to me." Looking ahead, he plans to pursue a career with the National Park Service as a law enforcement ranger.
For more information about the Environmental Studies program, visit: https://www.shu.edu/academics/ba-environmental-studies.cfm
Categories: Research, Science and Technology