Environmental Studies Students Present the Results of their Engaged Learning Projects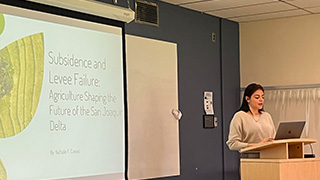 Nathalie Cuevas, Environmental Studies and Education major
This spring saw Environmental Studies students present the culmination of their work in several venues. Below is a snapshot of what some of these Great Minds have accomplished by applying what they have learned to real world issues.
On Tuesday, April 26, the Environmental Studies Senior Capstone class played host to two presentation panels. First, we partnered with the Anthropology program to host the annual "Anthropology in the Real World" panel as part of the Petersheim Academic Expo, showcasing recent student work at the intersection of Environmental Studies and Anthropology.
Environmental Studies and Education major Nathalie Cuevas presented her paper from last fall's Complex Coasts & Deltas class, called "Subsidence and Levee Failure: Agriculture Shaping the Future of the San Joaquin Delta." In it, she examines how a deteriorating levee system in the United States' most productive agricultural region combines with socioeconomic inequalities, risk perceptions, and sea-level rise to exacerbate vulnerability and undermine communities' ability to adapt to environmental change.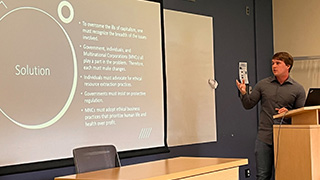 Cash Kinsey, Environmental Studies and Philosophy major
Environmental Studies and Philosophy major Cash Kinsey also presented his paper from Complex Coasts & Deltas, titled "Uneven Development in the Niger River Delta," in which he considers the multiple drivers of environmental conflict in this important oil-producing region of Africa, arguing that stakeholders at all levels need to be held accountable for environmental and social protection.
Next, Environmental Studies major and Anthropology minor Clara Cusanelli presented her paper, "Exploration of Rainforest Degradation in Plantation Building," discussing the results of a project using ArcGIS to map social and environmental changes caused by expanding oil palm plantations in Sumatra, Indonesia. Her presentation built on a paper previously published in Seton Hall's undergraduate research journal, Locus.
Finally, Frances Maris Lofranco, a Criminal Justice and Political Science major, shared the results of her research project, titled "Insights into Typhoon Haiyan/Yolanda through a pilot study of Twitter communities," indicating the potential of using the programming language R to mine text on social media platforms in order to amplify underrepresented voices and better evaluate government responses to natural disasters.
These diverse presentations—covering a wide range of environmental issues in different geographic and cultural settings—highlight some of the exciting research that students are undertaking through their courses and independent study projects, demonstrating the insights that an interdisciplinary lens can bring for addressing issues of real-world concern.
Senior Capstone students then presented the results of their semester-long collaborative team research projects. These diverse topics included: an exploration of the multi-layered causal factors underlying the flooding of the nearby Ivy Hill neighborhood, with recommendations for flood mitigation; a detailed proposal for bringing a campus garden back to the Seton Hall community; a study of the pedagogical and health-related benefits of integrating school gardens into the elementary school science curriculum; and a thorough survey of various "urban greening" strategies and approaches, with examples from New York City.
To carry out this research, students conducted extensive literature reviews and variously interviewed experts and stakeholders, deployed an online survey, attended town hall meetings, and made field trips to collect data on their topics in person.
As a key component of these engaged learning projects, students produced a form of "strategic communication," a creative mode of presenting their final results in a purposeful way aimed at a specific target audience of their choosing. Two of the groups created elegant and informative websites equipped with resources for interested publics to use, while the other two prepared illuminating slideshow presentations meant to inform and persuade relevant authorities and decision-makers.
In all, these presentations showcased the creativity, passion, knowledge, and skills that our students have honed over the course of several years of Environmental Studies education, preparing them for successful careers in the real world beyond Seton Hall!
Categories: Research