Environmental Studies Students Recognized for their Achievements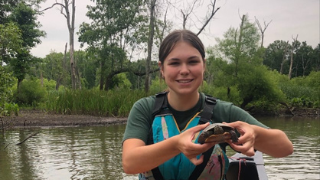 Eva Stumpf conducting fieldwork at the Lord Sterling Environmental Education Center.
The school year may have ended, but our students remain busy. This is particularly true for those in Environmental Studies, when late spring and summer provide ample opportunity for them to pursue internships, volunteer with local groups, and take advantage of other outdoor opportunities to broaden their education through real-world engagement. Recently, their record of civic involvement and community service has led to honors and recognition for several of them.
"We're exceptionally proud of our students and all that they accomplish," said Dr. Thomas Rzeznik, director of the Environmental Studies program. "It's rewarding to see their work and their potential recognized by organizations and agencies beyond the university," he added.
Waterfront Scholar
Eduardo Martinez Titla, a sophomore Environmental Studies major, recently attended the 2022 New York City Waterfront Conference as a "Waterfront Scholar"—one of several students from area schools selected for that honor. Sponsored by the New York Waterfront Alliance, the annual conference is one of the region's leading forums for discussing the environmental, economic, and societal importance of our shared waterways and bringing together those working to promote sustainability and resiliency in the face of climate change. The one-day event was held on May 24 in lower Manhattan.
"The conference opened my eyes to the pressures that our local marine ecosystems face as well as the efforts being undertaken to improve our waterways", Martinez Titla explained. He applied for the program because "I really wanted to learn more about the field." A resident of Elizabeth, New Jersey, waterfront issues are particularly important to him. He noted how he really enjoyed the sessions devoted to infrastructure development and how communities are "preparing to live" with the effects of climate change. He also appreciated the conference's focus on social justice and civic engagement. Among the benefits of attending the conference was getting a chance to speak with a wide variety of professionals and practitioners working in the field and to learn about possible careers in environmental studies. "I got to learn about what they do and why it matters," he said.
Landsberger Scholarship Recipients
The Environmental Studies program is also pleased that two of its students—Eva Stumpf and Christina Perez—recently received scholarships from the Landsberger Foundation, a private family foundation that supports environmental causes in New Jersey. The Landsberger Scholarship aids students pursuing a major or minor in Environmental Studies or Environmental Science with a demonstrated commitment to community engagement.
In her application essay, Eva Stumpf, an Environmental Studies major from New Providence, New Jersey, described her work at the Lord Sterling Environmental Education Center at the Great Swamp National Wildlife Refuge. There, she learned how to identify and control invasive species and collected data on the turtle population in the refuge. That work drove her "to create my own native habitat in my own backyard." "I want to show people that you do not need to partake in some huge environmental event to be helping the environment; you can start right in your own backyard," she explained. She looks forward to spreading awareness about the importance of biodiversity and hopes to pursue a career as a naturalist at the county, state, or federal level.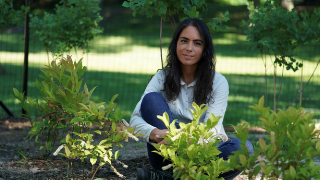 Christina Perez at the "Tiny Forest" project in Summit, New Jersey.
Christina Perez, a Biology Major with a concentration in Environmental Science from Wayne, New Jersey, has been involved in a range of community environmental projects. Inspired by the courses that she took at Seton Hall in Environmental Ethics, Permaculture Design, and Humans and the Natural World, she recently assisted with a "Tiny Forest" reforestation effort in the city of Summit, New Jersey. Working with Dr. Marian Glenn, Professor Emerita of Biology, Perez learned about the Miyawaki Method, which "uses native species of trees, shrubs, pollinators, and other plants that would naturally occur in the area to create a multi-layered forest." They also installed a bird sound recorder to monitor local wildlife and track habitat development. "The project has been a wonderful demonstration of environmental stewardship," she stressed, and something "that will continue to inspire my work" after graduation.
For more on the Environmental Studies Program at Seton Hall, click here.
Categories: Science and Technology