English Professor Receives Bread Loaf Fellowship, Publishes in Bookforum and Gawker
Thursday, August 25th, 2022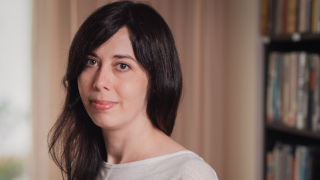 Professor Cara Blue Adams has been awarded a fiction fellowship to the Bread Loaf Writers' Conference. Adams' debut collection of short stories, You Never Get It Back, was featured earlier this year as a New York Times Editors' Choice and was "longlisted" for The Story Prize, which "recognizes the best story collection to be published each year." Adams won the highly competitive John Simmons Short Fiction Award in the Iowa Short Fiction Award Series.
The fiction fellowship at Bread Loaf …. Adams is no stranger to Bread Loaf, which has been described by The New Yorker as "the oldest and most prestigious writers' conference in the country." Adams is a member of the Admissions Board and earlier in her career received the conference's "waitership" award, a program in which select writers are given the opportunity to attend Bread Loaf for little or no cost "in exchange for waiting tables in the communal dining hall for the roughly two hundred and fifty writers, agents, editors, and publishers attending the annual ten-day event in Ripton, Vermont." The waitership awards are highly competitive and feature generations of critically acclaimed writers as alumni; Adams is a former Bread Loaf "head waiter."
In Gawker, Adams published "Melissa Bank Deserved More," noting that "The author of the Girls' Guide to Hunting and Fishing was a deft stylist whose work transcended chick lit." Bank died on August 2, 2022.
Adams writes,
Bank died last week from cancer at the age of 61, leaving an interesting legacy. She grew up outside of Philadelphia, earned an MFA from Cornell, worked in advertising, and spent 12 years writing her debut, which received an enormous advance. Though critically praised as well as popular, her books became regarded as light women's fiction, when in reality they are anything but. There are many lessons to be gleaned from her writing: Painful experiences aren't all of life, and as such, they aren't all that's worth capturing in literature. Funny doesn't mean shallow. Courtship is a legitimate subject for serious fiction, even if we struggle to see that sometimes when a woman chooses it, as Bank did. It would be enough if that was her only subject, but she tackles much more. Bank's themes include the complexities of family life, mortality, grief, and, crucially, loneliness. She explores the strictures of gender and how they might estrange us from ourselves and prevent us from finding real recognition and love; what it means to love a person who can never stop hurting you, a person you have to leave, though you don't want to; what it means to try to create something of your own.
Here you can read the full essay, "Melissa Bank Deserved More."
In Bookforum, an American quarterly based in New York, Adams published "Unconventional Diaries," noting that she has provided "a list of journals that eschew any sense of duty."
Adams writes,
Who can resist a diary? They promise intimate revelations—the confidences that let us glimpse the human condition, which we turn to literature for but don't always find—alongside the rhythms and texture of life as we live it, day by day. And each diary is unique; each represents a specific set of circumstances met by a specific mind. It's fun to dip into John Cheever's and then Franz Kafka's, like moving between an icy pool and a hot tub—a pleasant shock.
At its worst, of course, a diary can be a dutiful recording that fails to come alive. What memoirists and fiction writers do is considerable work: knotting the slack line of daily life into a compelling story isn't easy. Some of my favorite diaries avoid this problem by eschewing any sense of duty, which makes for exciting reading. Conventional diaries are often best sampled; here are seven unconventional ones that are pleasurable to read straight through to the end. They share the attractions of being a little wild and relatively brief.
Here you can read the full article, "Unconventional Diaries."
Categories: Arts and Culture