Edwin R. Lewinson Center for the Study of Labor, Inequality & Social Justice Announced
Friday, January 20th, 2017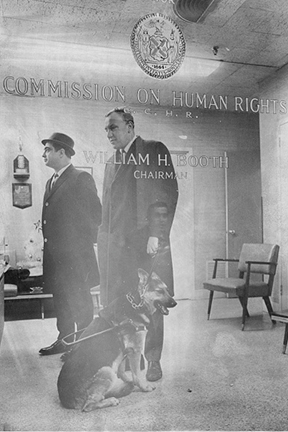 Edwin R. Lewinson with his seeing-eye dog Hebe and Bronx City Councilman Merola outside the City Commission on Human rights office where he filed his complaint. January 02, 1969. New York Post.
In honor of the late Seton Hall History Professor Edwin R. Lewinson — a groundbreaking scholar, activist in civil disability, and labor rights — the College of Arts and Sciences at Seton Hall has announced the foundation of the Edwin R. Lewinson Center for the Study of Labor, Inequality, and Social Justice. Endowed posthumously by Professor Lewinson, the center will bring to Seton Hall speakers, events, research, and scholarship that further develop and pay homage to Lewinson's 30-plus years as a professor in the department of history and 50-plus years as a civil rights activist. Professor Lewinson died in 2012 at the age of 82.
The goal of the Lewinson Center is to advance understandings of labor, inequality, and social justice by engaging with topics in labor studies, social justice, and critical matters like the quest for economic security and social and legal equality among all peoples.
"The Lewinson Center will bring together faculty, students, and policymakers to address the most critical issues facing working people today: issues of class, race, gender, access, law, and economic policy all intersect at the paycheck, or the lack of one, and in the conditions of the workplace," said Center Director and Associate Professor of Sociology Leslie Bunnage. "Both the history and future of the world of work encompasses real issues in real people's lives. The Center will help bring these issues to the forefront on campus and throughout the community at large, where they belong."
The Lewinson Center will focus its activities in three main directions: support of scholarship, curriculum development, and public outreach, often in the form of notable speakers. The center brings a wide array of scholars to its board and will take a multidisciplinary approach to questions of systemic economic inequality, equal access, and social justice. In doing so, the center follows in the footsteps of its namesake.
"Edwin R. Lewinson was born to blindness but saw injustice clearly and did something about it ," said Larry Greene, a professor of history at Seton Hall and a friend and colleague to Dr. Lewinson. "In addition to his work as a scholar, he was a pioneer in civil rights activism and was arrested during a sit-in to desegregate the Greyhound Bus Terminal in Washington, D.C. - in 1949. By November of 1964 he had been arrested five times, engaging in protests against discriminatory hiring practices, the 1963 March on Washington, the 1964 World's Fair sit-in, and almost anywhere else you can think of where people were fighting for fairness. He and his seeing eye dog were a constant presence in the struggle for equality, workers' rights and the rights of the disabled over a span of five decades, " Professor Greene continued, "Ed Lewinson was a great American, an honor to Seton Hall and, on a personal level, a great friend. At the Edwin R. Lewinson Center we will do our best to honor his legacy and continue his important work."
The following are some of the topics and themes the Lewinson Center plans to address:
Civil and human rights
Racial and ethnic inequality
Gender inequality
Disability rights and accommodation
Legal and administrative education on workplace issues
Labor organizations-their structure and role both historically and in the present day
Labor outside the traditional workplace: transient and itinerant labor, labor within the household
Slavery, forced labor, human trafficking and other forms of involuntary servitude
Environment rights
Workplace safety
Immigration, migrant labor and the rights of undocumented workers
Social media and its role in social and political change
Critical theory devoted to understanding issues of labor, inequality and social justice
Social movements and collective action directed toward issues of labor, inequality and social justice
Class in contemporary society and in historical perspective. Patterns of economic inequality
Education and Employment. Pattern of inequality in access to knowledge and skill for economic advancement
Debt, wage stagnation, and economic decline
Edwin R. Lewinson, by Professor Larry Greene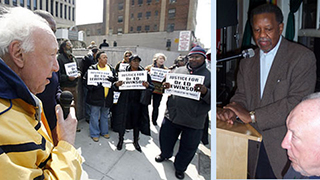 Above left, Ed Lewinson speaks at a Peoples Organization for Progress support rally in Newark before the 78-year-old activist was sent to a federal prison in Ohio, based on his arrest for protesting the School of the Americas at Ft. Benning, Ga. On the right, Rev. Lucius Walker, and people's attorney Lynne Stewart, along with others, pay tribute to Ed (center) at an IAC send-off meeting on April 1, 2008.
Edwin Lewinson was a member of the History Department at Seton Hall University from the early 1960s into the 1990s. Ed Lewinson was a man of immense talent, broad interests, and most importantly, a deep and sincere concern for the equality of humanity. Born in Detroit and legally blind from birth, Ed completed his undergraduate degree at the University of Michigan and his M.A. and Ph.D. in history from Columbia University. He taught at Seton Hall for over thirty years. He was a fixture at Seton Hall traversing the campus with his guide dog "Hebee" who was succeeded by "Nelson" (named after Nelson Rockefeller) and later "Hooper." He authored two books: John Purroy Mitchell: Boy Mayor of New York and Black Politics in New York City. Professor Lewinson was the recipient of a teaching and research Fulbright Fellowship to Korea in 1979-1980 and where he taught American and British Colonial History and conducted research on the Korean War. The Fulbright was renewed for the academic year 1980-1981. During that time, Ed interviewed closed to 200 people as part of his research project. Upon his return to the United States, he commenced work on a book on the Korean War and chaired an international conference at Seton Hall on the Korean War.
This is the academic part of Ed's career. However, there is another side for he was in the tradition of the scholar activist. The synthesis of these two traditions can even be seen in the courses taught by Ed Lewinson. During his tenure at Seton Hall, he taught the usual survey courses in American History with diligence, but his pioneering efforts were in the establishment of courses in African American History, the History of the South, social history, and the ethnic history of New York City. It can be said that Ed Lewinson took a multicultural approach to history and life before the term was actually invented. His course on the "Negro in America" was the first course in African American History ever taught on Seton Hall's campus. He was a pioneer civil rights activist and an early member of the Congress of Racial Equality (CORE), Brooklyn chapter. In 1949, he was arrested during a "sit-in" to desegregate the Greyhound Bus Terminal in Washington, D.C. This was not the end but the beginning of a career as a civil rights activist that spanned more than fifty years. In the summer of 1963, Ed was among the nearly 700 people arrested in demonstrations at the construction site of the Downstate Medical Center protesting against discriminatory hiring practices. By November of 1964, he had been arrested five times in Civil Rights demonstrations. Ed was at the 1963 March on Washington and the 1964 World's Fair sit-in. He participated in the early 1960s sit-in civil rights activities to desegregate restaurants and housing and participated in marches for the passage of the 1964 Civil Rights Act and 1965 Voting Rights Act. He continued his civil rights activities with local 1199 of the Hospital Workers Union. After he retired from Seton Hall, he worked in Newark with the People Organized for Progress (POP) to advance civil rights.
Professor Lewinson's vision of social justice included the disabled and victims of war. He was a tireless worker for the disabled and to increase accessibility for blind people. In 1966 he was plaintiff in a lawsuit in New York State that would open jury service to blind people. In the 1980s, he served as the president of the New Jersey chapter of the National Federation of the Blind. He was an opponent of war, imperialism, colonialism, and nuclear weapons. Professor Lewinson was a member of International Action Center and New Jersey Peace Action.
When I last saw Edwin Lewinson, I was giving a talk on the historical dimensions of the contemporary issue of slavery, Jim Crow, and reparations at a meeting of Peoples Organized for Progress at a predominantly African American church in Newark. Ed was a member of POP, in the audience, and lent his unique experience and perspective to the discussion. Ed was about 78 years old and soon to serve a 90 day prison sentence in Federal prison in Elkton Ohio based on his arrest for peacefully protesting the School of the Americas at Ft. Benning Georgia for its training of foreign intelligence operatives alleged to have participated in assassinations in Latin America. Edwin Lewinson refused special treatment because of his blindness or his age, accused the judge of violating his civil rights, and demanded to be sentenced like the other protesters. I and others worried about Ed, but Ed, as he so often did, was concerned more about injustice than his own safety or well-being.
Stevie Wonder, the blind singer and musician, released a prophetic album concerned with social justice issues years ago entitled Innervisions, which became a classic. Ed Lewinson had an inner vision which enabled him see people and the world in greater depth and breadth than most sighted people. Ed Lewinson's inner vision and commitment was based on the innate equality and humanity of all people. We at Seton Hall are better for having known him and having him part of the Seton Hall Community; in the Edwin R. Lewinson Center for the Study of Labor, Inequality and Social Justice at Seton Hall his commitment lives on.