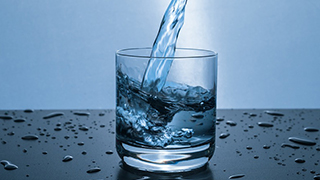 The Rose Mercadante Chemistry and Biochemistry Seminar Series is pleased to present the final Ph.D seminar of Karpagavalli Ramji entitled "Stabilized Heterogeneous Photocatalysts for Water Purification".
The seminar will be held on Tuesday, March 13, 2018 from 5:45 – 7:00 p.m. in the Helen Lerner Amphitheater, Science and Technology Center, Seton Hall University. Refreshments are available at 5:30 p.m.
Karpagavalli Ramji holds a Ph.D in Analytical Chemistry from the University of Madras, Chennai, India and was and assistant professor at the Department of Chemistry, Thangavelu Engineering College, affiliated with the Indian Institute of Technology. She held research associate positions in the U.S. at Northwestern, Clarkson and West Virginia Universities. She is co-inventor of 4 US patents, 1 from Seton Hall University, 2 book chapters and 13 refereed journal papers including one in Nature Communications. She is the recipient of the 2016 John J. LaGrosa Award of the New Jersey Water Environment Association.
Highly stable heterogeneous photocatalysts that use only solar light and air have been prepared and used for water purification. Organic dye pollutants, present, for example, in textile effluents are one of the major sources of water pollution owing to their limited biodegradability, toxicity and potential carcinogenic risks. Before certifying water for public consumption, reuse in industries or for discharge in surface water the organic pollutants must be degraded, an effort that is energy intensive and currently requires complex methodologies. This seminar will describe the development of new solid-state photocatalysts that use only visible light and air to treat wastewater. These offer significant improvements over traditional treatment methods, including simplicity, reduced cost, and energy consumption.
The Department of Chemistry and Biochemistry offers B.S., M.S. and Ph.D degrees with specializations in all areas of chemistry. Our unique research environment, including traditional full-time students and part-time students is designed to foster collaborations with industry and colleagues in other disciplines. The Rose Mercadante Seminar Series is named for Rose Mercadante, the departmental secretary for over 40 years, in honor of our alumni, her "boys and girls".
Categories: Science and Technology