Catherine the Great of Russia: A Woman Ahead of Her Time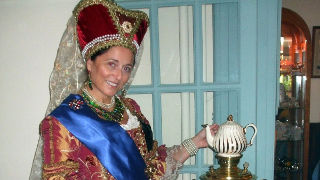 The Slavic Club will present Alisa Dupuy impersonating Catherine the Great, the Russian Czarina of the 18th century from 6:30 to 8:30 p.m., Thursday, March 23, in Fahy Hall room 236.
During her performance, Alisa will regale us with stories of Catherine's life and reign. Our audience will learn many things they never knew, and she will debunk the myths surrounding Catherine's amorous exploits.
Alisa Dupuy began her performance of The Ladies of History with historical presentations and first-person portrayals in 2006 out of her love for the important women in world history. Alisa believes, "history doesn't have to be boring!" and brings history to life in a lively and fun way by wearing clothing from different historical periods during her performance.
Currently, she performs for historical societies, libraries, book clubs, social clubs, church fundraisers, and schools, and hopes to expand her show further in the future! The main goal of The Ladies of History is to make history fun, exciting, and memorable for the guests who attend her shows.
Kindly accept our invitation to attend this free event as Alisa Dupuy's performance will not only be of great interest to our history, diplomacy and Russian students, but also to our Seton Hall community.
The Slavic Club invites all to attend, and Slavic food will be served!
Categories: Arts and Culture