Award-Winning Writer Sana Krasikov to Speak on Campus
Monday, October 1st, 2018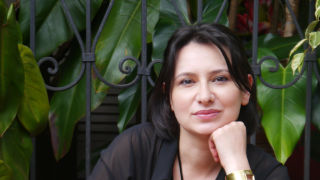 On Thursday, October 25, 2018, from 6:30 - 8 p.m., in Fahy Hall 236 come hear the true story behind Sana Krasikov's new, much-talked about novel, The Patriots, a story about a young American woman who leaves Brooklyn and heads to where "The Future is already happening." How a prizewinning author traveled to Russia to discover the secret stories of Americans trapped there during the Cold War… trapped not only by Stalin's schemes, but by America's own original "collusion" with the Soviet Union.
Imagine The U.S. post-economic crisis. Economic uncertainty divides us by race and class. A new form of popular media fuels outrage. And the new president is…the wealthy son of a New York family who's developed a surprising friendship with Russia's strong man leader. If you think we're talking about today… you'd be off by about 80 years.
Sana Krasikov was born in Ukraine and grew up in the former Soviet Republic of Georgia and in the United States. Her debut collection, One More Year, was named a finalist for the 2009 PEN/Hemingway Award and The New York Public Library's Young Lions Fiction Award. It received a National Book Foundation's "5 under 35" Award and won the 2009 Sami Rohr Prize for Jewish Literature. She is the recipient of an O. Henry Award, a Fulbright Scholarship, and a National Magazine Award nomination. Her stories have appeared in The New Yorker, The Atlantic Monthly, The Virginia Quarterly, Epoch, Zoetrope, A Public Space, and elsewhere.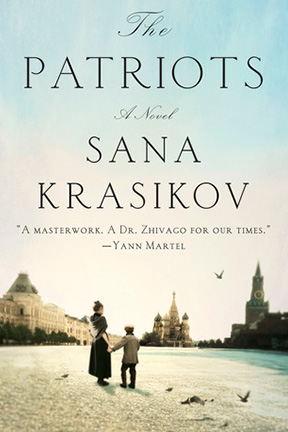 Praise for The Patriots:
"Suspenseful . . . With scintillating language and transporting narrative command . . . Krasikov dramatizes hidden, shameful facets of history. . . . In a galvanizing tale of flawed and courageous protagonists, erotic and political passion, and harrowing struggles for survival, Krasikov masterfully and devastatingly exposes the 'whole dark clockwork' of totalitarianism and asks what it means to be a hero, a patriot, a human being."—Booklist
"Ambitious and compelling . . . Krasikov skillfully intertwines multiple narratives and time frames in a sweeping drama that is both a touching affirmation of the enduring bonds of family and a searing examination of the ghastly moral quandaries faced by the subjects of a totalitarian state. . . . We do the best we can in an imperfect world, Krasikov reminds us in a dark tale brightened by tender compassion for human frailty."—Kirkus Reviews
"A sweeping, multi-generational saga. . . With stunning depth and maturity, this debut work does what a historical novel should: it takes us inside a time and place we may know little about, and shows it through the eyes of characters whose ideas and prejudices are of their own time, not ours."—Library Journal
"'The Patriots' is a masterwork, a Dr. Zhivago for our times. It is a novel rooted in characters so real you weep over their tragic fates, so realized you think you're watching a movie, with sentences so sharp and wise they stop you in your tracks. The story of dreamy Florence Fein, from Flatbush, Brooklyn, will break your heart."—Yann Martel, author of 'The High Mountains of Portugal' and 'Life of Pi'
This event is co-sponsored by the Russian and East European Studies Program, the Department of History, and the Slavic Club. Generous funding has been provided by the College of Arts and Sciences thanks to the support of the President's Advisory Group members.
The event is free and open to the public. Refreshments will be served.