Alumna Prepares Tomorrow's Social Workers Inside and Outside the Classroom
Sunday, January 27th, 2019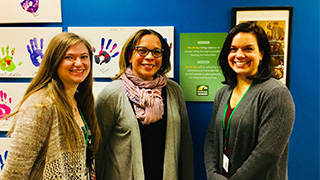 Amy Sheppard, LCSW, with Seton Hall University's B.S.W. Intern, Kayla Raff (left), and M.S.W. Intern, Adrienne Sauer (right)
Amy Sheppard '91 is a licensed clinical social worker and has worked at NewBridge Jobs Plus since 1996; permanently adopting the role of Program Director in 2012. Having accepted student interns from other colleges and universities for many years, Amy reached out to her alma mater, Seton Hall, in 2015 in an effort to connect with their social work program and build a field placement relationship. Since 2015, Amy has instructed six SHU social work students coming from both the Bachelor in Social Work (B.S.W.) and Masters in Social Work (M.S.W.) programs; including two students this year. In the spring semester (2019), Amy became a part-time faculty for the B.S.W. program.
NewBridge Services, Inc. is a nonprofit social service agency with programs throughout Morris, Passaic and Sussex counties. Founded in 1963, NewBridge provides services including; adult and family counseling, substance abuse treatment and addiction recovery, play therapy for young children, school-based prevention programs, youth employment and education services, adult day treatment programs, and outreach to the elderly. NewBridge also provides a range of adult residential services that encompass group homes, supervised apartments, and supportive/affordable housing, as well as case management.
One of the cornerstone programs within NewBridge Services, Inc. is NewBridge Jobs Plus. Since 1983, NewBridge Jobs Plus has been providing support to out-of-school, at-risk youth, ages 16-24, who needed to earn a high school diploma as a path to employment or post-secondary education. Funded primarily through the Morris/Sussex/Warren Employment and Training services, Jobs Plus is a free program which provides; State of New Jersey High School Diploma preparation and test registration (TASC), Employment Skills Training, Life Skills Education, Case Management, Counseling, College Application assistance, Career counseling and free transportation within Morris County.
Amy's ties to Seton Hall run deep. When speaking about her recent hire as a part-time faculty, Amy stated that she was looking forward to returning to South Orange, "I am looking forward to being back on campus…and to possibly bumping into my brother-in-law, Pirate Head Baseball Coach, Rob Sheppard, or nephew, Robert Sheppard, Jr." Whether teaching in the classroom or mentoring in the field, it is clear that Amy's dedication to Seton Hall and the social work profession are unwavering. "I am excited to be part of the Social Work tradition at SHU…and I hope to continue supporting social work students at SHU for a long time to come…" Seton Hall is lucky to have one of its own, Amy Sheppard, "paying it forward" to educate the next generation of social workers! How many social workers does it take to make a difference? In this instance, just one!