Africana Studies Spring 2018 Lecture-Speaker Series
Thursday, February 22nd, 2018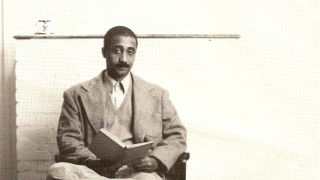 In celebration of Black History Month, the Africana Studies program hosted actor and writer, David Mills on February 21 at 6 p.m. in the Beck Rooms.
Mills has worked professionally in the dramatic and literary communities for more than a decade. He is the author of two books of poems, The Dream Detective (2009) and The Sudden Country (2013), a Main Street Rag book-prize finalist. He lived as Writer-in-Residence in Langston Hughes landmark home for three years where he was inspired to compose a one-person show of Hughes' work, which he has performed in colleges including City University of New York, Yale University, University of Pennsylvania, James Madison University, and Sarah Lawrence. Twice, he was invited to perform his Hughes show for the mayor of Washington D.C. The American Library Association recently voted Mills' Hughes piece the #4 young adult show nationwide. Tony-award winning director George Faison ("The Wiz") incorporated Mills' Hughes piece into a 2004 musical called "Harlem Hot and Sassy." Mills performs a one-person show of Dr. King as well.
Mills has received fellowships from the New York Foundation for the Arts and is a 2018 New Works Grant recipient in poetry from the Queens Council on the Arts. He has had memberships in SAG, AFTRA, and Actors Equity. He has performed in both regional and New York theaters playing roles such as Othello (Vineyard Playhouse); understudying Othello (Pearl Theater, New York); and Gabriel, the idiot savant in August Wilson's Pulitzer-Prize winning play Fences. Mills has booked voiceovers for General Motors and Miller-Lite and has recorded his poem "Ghost-town" on RCA jazz recording artist Steve Coleman's album Blank Science. With jazz bands, he has toured Switzerland, Austria, Poland, and Estonia. Mills received a master's in English literature and poetry from New York University and graduated cum laude from Yale University (Economics/Theater).