Monday, February 15, 2021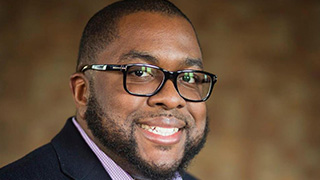 Kirk Johnson, Ph.D., adjunct professor in the Department of Religion, recently published his second book titled The Anti-Racism Resource Guide Volume One: Supporting Black Businesses and Economics. The book, which one might consider more of a directory, features an array of Black-owned banks, real estate companies, construction companies, business funding institutions, supermarkets, farms, toy companies, cleaning services and many more.
According to Johnson, the publication's purpose is to draw exposure to businesses and equity for the Black community. "There was not a resource like this, and that prompted me to create it. The convenience of having everything in one place makes it easier to support Black businesses," he says about his book, which took him a year to compile. "So many people would like to support businesses of color but don't know where to start."
Described by some as the "Modern-Day Green Book," The Anti-Racism Resource Guide Volume One has been well received. "People are excited and have been waiting to have such a resource for quite some time," says Johnson.
Yet this latest publication is only the beginning. The book is the first installment of a series titled The Anti-Racism Resource Guide Volumes. Future volumes will investigate other needed areas such as education and medicine. The series as a whole will serve to empower, educate and encourage individuals and communities with a connection to the African Diaspora.
Johnson teaches at both Seton Hall and Berkeley College. He is a member of the American Society of Bioethics and Humanities and The New York Academy of Medicine. He serves as a member of the Atlantic Health Systems Bioethics Committee and was formerly assistant director of the Medical Humanities program at Drew University in Madison, New Jersey. His previous publication, Medical Stigmata: Race, Medicine, and the Pursuit of Theological Liberation, exposed the idea of race as a false representation for treatments, cures and medical attention.
Categories: Arts and Culture , Business