'Big Data in FinTech' Comes to Seton Hall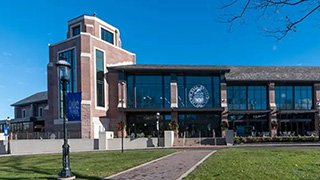 Seton Hall will host this year's New Jersey Big Data Alliance (NJBDA) Symposium in the newly renovation University Center on May 9, 8:30 a.m. to 3:30 p.m.
On Tuesday May 9, Seton Hall University will host the 10th Annual New Jersey Big Data Alliance (NJBDA) Symposium, the state's "premier conference for big data and advanced computing."
The NJBDA is an alliance of 18 higher education institutions, as well as industry and government members, that catalyzes collaboration in advanced computing and data analytics research, education and technology. The event theme this year, "Big Data in FinTech," focuses on the opportunities in new development in the financial industry created by big data and financial technology. Funding for the symposium has been provided by the U.S. Economic Development Administration.
The venue rotates among the partners in the NJBDA; previous hosts include New Jersey Institute of Technology, Princeton University, Kean University, New Jersey City University, The College of New Jersey, Montclair State University, Rowan University, and Rutgers University. This year's symposium will be held in person from 8:30 a.m. to 3:30 p.m. at Seton Hall in the University Center.
Registration for the symposium is now open and can be accessed through the NJBDA website.
Manfred Minimair, professor in the department of Mathematics and Computer Science at Seton Hall, is chairperson of the 2023 NJBDA Symposium. "The annual symposium typically attracts a large number of attendees. We expect more than 150 people to attend, including business professionals, New Jersey government representatives focused on economic development, and professors, students and staff from NJ colleges and universities," he said.
The symposium will feature high-profile keynote speakers: George Calhoun, professor, founding director of the Quantitative Finance Program and executive director of the Hanlon Financial Systems Center at Stevens Institute of Technology; Kjersten Moody, chief data officer at Prudential Financial; and Marc Rind, chief technology officer-data at Fiserv.
Additional sessions will cover a variety of interesting topics ranging from artificial intelligence and machine learning applications, workforce skills, regulatory issues to Cybersecurity.
"The symposium provides an excellent forum for professionals and students for networking and learning about the latest developments in Big Data and FinTech. We invite academic researchers and students to contribute by submitting proposals for research presentations and posters by March 25," said Minimair.
Attendees will be able to:
Explore education and training of a Big Data Workforce with a focus on Big Data in FinTech.
Gain insights on cutting-edge research at New Jersey's premier academic institutions.
Participate in relevant and valuable workshops.
Network with industry, government, academic leaders, and New Jersey Big Data Alliance members.
Associate Professor Matthew Hale, Ph.D., who teaches in the Department of Political Science and Public Affairs at Seton Hall, serves as president of the New Jersey Big Data Alliance. He offered this background on the origins of the symposium:
The NJBDA started 10 years ago with a bunch of New Jersey faculty members who were interested in and doing research on "Big Data." Being good academics, we decided to have a symposium to talk about what we were doing. Today, the NJBDA encompasses every four-year university in New Jersey and is expanding into community colleges. We have a growing number of corporate and government partners who have come to rely on the NJBDA for research support, new ideas and help in workforce development and training. We have been recognized and financially supported by the state of New Jersey for our efforts and leadership in the "big data" space.
Through it all we remain a committed group of academics who believe that with the right training programs and economic infrastructure New Jersey can become a nationwide and global leader in a wide area of high-end computing fields, including; Artificial Intelligence, Cyber Security, Machine Learning, Data Science, Data Driven Financial Services, and even Electronic Gaming.
He added, "It is exciting to have a 10-year anniversary, but even more exciting is thinking about where the NJBDA, New Jersey and our diverse fields will be in the next 10 years. It is going to be a fun ride."
Visit the NJBDA website for a detailed agenda and to register.
Article was updated on May 5, 2023 to reflect change in keynote speakers.
Categories: Business, Education, Research