Alumna Receives Historic Promotion from South Brunswick Police Department
Monday, February 7th, 2022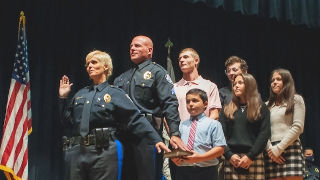 Lts. Tara, front, and Robert Jairdullo and their family during their dual promotions.
In November 2021, the South Brunswick Police Department announced several historic promotions, including the promotion of alumna Tara Jairdullo M.A.'20 to lieutenant, making her the highest-ranking female in the department's history. Eleven other police officers were promoted, including her husband, Robert Jairdullo. The promotions filled vacancies from retirements and help to increase supervision, focusing on improving both the department and the level of service that can be provided.
Breaking records is no new feat for Jairdullo, as she was named the South Brunswick Police Department's first female police sergeant back in 2016. Prior to this outstanding accomplishment, she served 20 years in patrol. Now a 24-year veteran, Jairdullo currently serves as a supervisor in the Community Policing and School Resource Officers Bureau. She created the Citizen Police Academy and has overseen it for the past six years.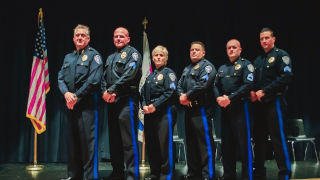 Chief Raymond Hayducka with Lt. Robert Jairdullo, Lt. Tara Jairdullo, Lt. Michael Pellino, Lt. Mike Kuchma and Lt. Frank.
Throughout her time in the department, Jairdullo has received many commendations for her professionalism, as well as her work with youth, domestic violence victims, school-based programs, and firearms proficiency. During the ceremony in November, Police Chief Raymond Hayducka stated that the recognition Jairdullo receives is "the result of her strong community policing efforts. Time and time again, I hear from residents thanking Tara for her calm and professional handling of a case."
Jairdullo received her bachelor's degree in Criminal Justice from The College of New Jersey, and her master's degree in Human Resources Training and Development from Seton Hall's College of Education and Human Services.
Seton Hall commends Jairdullo for her service and achievements in the field. The University takes pride in being able to celebrate members of its community, including its alumni, for the strides they take to make our world a better place. They extend Seton Hall's legacy by showing what great minds can do.