What Great Minds Can Do: Victoria Blakey-Padilla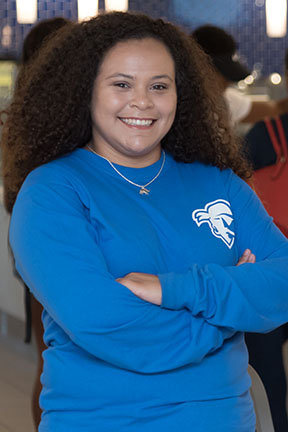 Victoria Blakey-Padilla learned quickly how lucky she was to be at an institution that emphasizes undergraduate research. "In my freshman year, I got to do cancer research with Professor David Sabatino. It was great experience; it helped me get comfortable in the lab, learn to write lab reports and work independently. I don't think I would have had this kind of exposure at another school. At Seton Hall, the faculty want to start you out early and expose you to as much as possible."
Victoria also did research on pox viruses with Professor Daniel Nichols, and because of her lab experiences, she was able to present research at conferences and submit an article for publication. "The faculty at Seton Hall are very helpful; they pushed me to grow and take on new projects, which helped me develop both confidence and skills. They also really know their students and look out for them. One professor recommended me for a special scholarship during my freshman year. As a result, I received extra scholarship funding in my sophomore and junior years. It was so nice to know the faculty were paying attention and willing to invest in me."
As the president of Seton Hall's Model U.N. program, Victoria led the University's team to win a best small delegation title, beating out teams from Cornell, Harvard and Georgetown. "I was involved in Model U.N. in high school and was so glad I could continue this at Seton Hall. Our team is very competitive and has traveled around the country winning many tournaments. I am most proud of our victory this past spring at Cornell, where we beat out so many Ivy League schools."
Through Seton Hall's Honors Program, Victoria was able to balance her passion for the sciences with exploration of political science, history and the liberal arts. "I was so glad I got to be a part of the Honors Program. It was rigorous and challenging, and it helped me get a well-rounded education. The best part was the friends I made — friends for life."
Seton Hall Career Highlights
Freshman year, cancer research with Professor David Sabatino
Junior year, pox virus research with Professor Daniel Nichols
President, Model U.N.
Participant, Honors Program
Presenter, William Paterson University undergraduate research symposium
Volunteer, DOVE: Service on Saturdays
Member, Alpha Omicron Pi
Publication, under review