What Great Minds Can Do: Stephanie Gomulka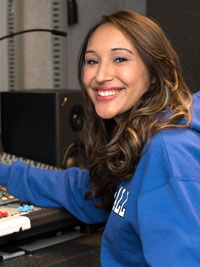 "Seton Hall is small, but mighty. I have friends who went to larger schools — with bigger communication programs — who didn't get the one-on-one attention I did. Besides, they had only one internship; I'm graduating with five, along with a stronger resume and more connections. That's a real advantage. I was able to graduate from Seton Hall with a job as an assistant story editor for ABC's 20/20."
Stephanie worked with Seton Hall's Career Center, and by her sophomore year she had begun the first of five internships. She interned with Time, Inc. twice, as well as with ABC News, CBS News and Z100, the No. 1 radio station in New York City. Stephanie was the only undergraduate chosen for her internship at Time Inc. when she was hired, and she attributes this to Seton Hall's strong reputation and industry connections in addition to the in-depth preparation she received.
Stephanie's internships helped her focus her career interests. "I've been able to work in marketing, print, radio and television; I even helped design a trivia app. I don't think I would have had these unique and diverse opportunities without Seton Hall. Having these experiences on my resume help me stand out. Most importantly, they helped me land a full-time job with ABC's 20/20."
As a production intern for CBS, Stephanie pitched and researched stories and she helped film specific segments. She was also there in the studio during every live show. "CBS was my favorite internship; I learned so much. They never treated me like an intern. I felt like I was one of the producers, helping create segments watched by millions of people every day."
Seton Hall is located only 14 miles from New York City, which gives students a tremendous advantage. They have access to internships and to industry professionals who come to campus to serve as experts- in-residence, providing mentorship and networking opportunities. "Seton Hall is just a half-hour away from New York City, the media capital of the world. Our alumni network has so many people working in communications. When I interviewed at Z100, I met with a Seton Hall graduate. That definitely helped me get the job."
At Seton Hall, Stephanie also got plenty of hands-on experience. She wrote articles for The Setonian, did production work for Pirate TV, and won multiple awards competing with Seton Hall's Brownson Speech and Debate Team. "I don't think I would have had these opportunities at a larger school — the faculty at Seton Hall really know and care about you. They help you fine-tune your skills. They are always looking out for internships and projects to help you excel and explore your interests. They know your style and your interests. As a journalist, that really helped me to find my voice and identify the stories I want to tell."
Seton Hall Career Highlights
Five internships (Time, Inc.; CBS News; ABC News & Z100)
Brownson Speech & Debate Team
Pirate TV
Writer, The Setonian
Member, Asian American Journalists Association
Member, French Club
Resident Hall Assistant