What Great Minds Can Do: Ricky Harzula
"The main reason I wanted to come to Seton Hall was its amazing academic reputation that I had heard about from my teachers in middle school and high school. I'm the kind of person who doesn't just want to do something. I want to be great at it. I knew if I came to Seton Hall, I'd become a great teacher."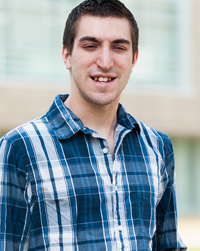 An education major, Ricky has always felt a calling to contribute to the greater good and help others. At Seton Hall, he also learned the true meaning of service. As a Servant Leadership Scholar, Ricky immersed himself in serving others as a mentor and peer advisor, working for Habitat for Humanity in North Carolina and helping to rebuild homes, volunteering in local communities in New Jersey and Philadelphia and going to Haiti twice to work in an orphanage. "Seton Hall really encourages students to get involved and to give back. But Servant Leadership isn't just about serving others; it's also about leading others. As a leader, I can bring other people into the circle and show them the impact they can have in the world. The more people you can involve and get to give back, the more you can accomplish as a leader."
Ricky's desire to serve and help others drew him to the highly competitive Teach for America program. "Teach for America is highly selective. Normally, only about 10 percent of the applicants are chosen. But at Seton Hall three times that number are accepted because of the strength of our education program and our students' commitment to serve. I specifically asked to be sent to Detroit. I wanted to go where there was a great need and I could make a difference."
At Seton Hall, Ricky learned not only to be a caring and compassionate teacher but also to develop the skills he needs to be the great teacher he aspires to be. One of the things he loves best about Seton Hall is the extensive field experience offered to students. "A lot of other education programs hold back on when you can do field work and immerse yourself in a classroom. But Seton Hall started me off right away, giving me many varied opportunities in different school settings. This allowed me to apply the methods, strategies and technology I learned in my Seton Hall classes and see how actual students react to these tools and strategies."
Ricky found the perfect community at Seton Hall, one that fostered his potential to lead in his community and in his classrooms for years to come. He will continue to share his spirit of service with the many children he will teach in his career. "Coming to Seton Hall is one of the best decisions I've ever made. It has given me so many opportunities to become a better person and a better leader. I want to use these experiences to help my community and help my students learn to become servant leaders too."
Seton Hall Career Highlights
Study Abroad, Rome
Service Trip, Haiti
Habitat for Humanity, North Carolina
Peer Advisor
President, Omicron Delta Kappa
Co-chair, Student Activities Board
New Member Coordinator, Alpha Phi Omega
Servant Leader Scholar
Kappa Delta Pi
National Society of Collegiate Scholars