What Great Minds Can Do: Richard Greendyk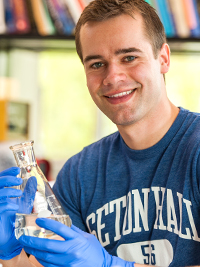 "Beginning my freshman year I started working with my pre-med adviser. She paired me with a Seton Hall alumni mentor, an orthopedic oncological surgeon at Mt. Sinai Medical Center in New York City. I got to observe him during 30 surgeries and assist with several research projects. This, combined with my on-campus research with Dr. Moldow on stress hormones, and my two summer research positions at Columbia University Medical Center working on diabetes research, taught me to apply what I was studying in the classroom and helped me get into medical school."
For Richard Greendyk, Seton Hall is a family affair; he joined his two cousins and his sister as proud Pirates. As a high school student he visited his sister on campus: "I sat with her in classes and I saw what the professors were like, and I said, 'This is the place for me.'" As a commuter, Richard made Seton Hall his home, working in the research labs with Dr. Moldow, co-founding the triathlon club, tutoring for student support services, helping others on a service trip to El Salvador, founding the Open Doors mentorship program and enjoying all campus has to offer. He beams when he says, "It's a lot of work and a challenging learning environment but Seton Hall is also a lot of fun. There are always so many activities, always something to do every night and lot of ways to get involved."
What he loves about Seton Hall is that "it is a place where people really care. Faculty are there for you and inspiring; there is a community behind you, pushing you to do your best." He also appreciates that "there is a deeper purpose. We are learning, studying, doing internships and research so when we graduate we can make a difference in the world."
Richard came to Seton Hall with the dream of being a surgeon. Even before he arrived on campus he began working with Seton Hall's pre-med adviser. During freshman year she paired him up with a Seton Hall alumni surgeon at Mt. Sinai Medical Center in New York City where he got to observe more than 30 surgeries and work on clinical research, resulting in four video publications used for doctor training across the globe. During his two summer clinical research internships at Columbia University Medical Center, he realized just how just how powerful his Seton Hall education was. Working mostly with Ph.D. students and medical students from Columbia, he realized that his "courses prepared me for everything that came. I had the tools and the background because of my Seton Hall education. I was able to hold my own and be a part of Columbia's research team; it was an amazing feeling to see what Seton Hall gives us." Richard is now on his way to realizing his dreams as he heads off to Northwestern University's Feinberg School of Medicine where he will pursue a joint M.D./Ph.D. program.
Seton Hall Career Highlights
Mentored by Seton Hall Alumni Surgeon at Mt. Sinai Medical Center, involved observing surgeries and assisting with research
Co-founder, Seton Hall Triathlon Club
Two summer research internships at Columbia University Medical Center
Research with Dr. Moldow on campus, studying reactions to stress hormones
University Honors Program member and peer mentor
Community Service Trip to Orphanage in El Salvador
Student Support Services Tutor
Founder, Open Doors mentorship program
Contributor to four video research publications with doctors from Mt. Sinai Medical Center