What Great Minds Can Do: Paul Murphy
"Seton Hall really stresses practical, hands-on learning and internships, so you start building your career while you are in college. They give so much guidance and support. I wouldn't be where I am without the support and opportunities I received at Seton Hall."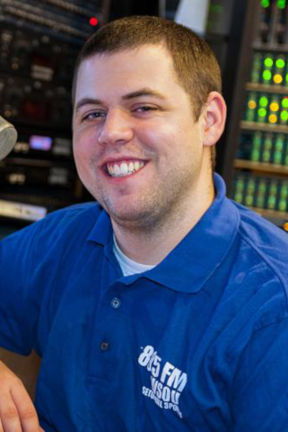 Several months before graduating, Paul had already accepted a full-time job from CNN, turning down other offers from the BBC and the French Associated Press. "I owe it all to Seton Hall: the connections, reputation, and the support of the whole community pushing me to succeed." The University's strong reputation and connections helped him break into the news industry and build his résumé with two impressive internships, one with "Piers Morgan Tonight" on CNN and the other on "The Daily Show."
With Paul's passion for news and global affairs, he aspired to be a news correspondent. He believes his study of diplomacy and international relations at Seton Hall "fundamentally helped me understand international issues and gave me insight, knowledge and the analytical abilities that will make me a better news correspondent."
After attending two other colleges and earning almost 90 college credits, Paul finally found a home when he transferred to Seton Hall. Though he only spent a year at the University, he made the most of it – writing and serving as editor for The Diplomatic Envoy, Seton Hall's foreign affairs newspaper and producing and hosting a global news program on WSOU. "You might not think it matters, but the opportunities on campus really help. The Diplomatic Envoy helped me gain publishing credentials and WSOU's connections in the media world opened a lot of doors."
One of the things that drew Paul to Seton Hall was its location. "It's all about location," Paul says. "Seton Hall's proximity to New York City is one of the University's best resources. It's so easy to hop on the train and be in the city in a few minutes. I wouldn't have had the internships at 'The Daily Show with Jon Stewart' or at 'Piers Morgan Tonight' on CNN if not for Seton Hall's location."
The support he got at Seton Hall was another essential ingredient of Paul's success. "The faculty are so dedicated and helped me develop my skills and helped me network. Dean Sanjamino not only gave me expert guidance but she also used her personal knowledge and connections to the media world to help me."
Seton Hall Career Highlights
Intern, "The Daily Show"
Intern (reporting to the show's executive producer), "Piers Morgan Tonight,"
International News Editor, The Diplomatic Envoy
Technical Producer, 'The Global Current' news show, WSOU
Vice President, Pirates of Irish Persuasion