What Great Minds Can Do: Megan Ferguson
"The Seton Hall community is so welcoming. The faculty are compassionate and caring, and it feels like everyone here is rooting for you to succeed. I found a place where I could grow, find myself and belong."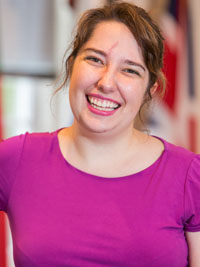 Megan Ferguson took full advantage of her time at Seton Hall. In addition to attending conferences at the United Nations as a diplomacy student, she studied abroad in Taiwan for a semester, played in the University orchestra, served as a correspondent for The Diplomatic Envoy newspaper, participated in the Brownson Speech and Debate Team and served as an anchor/analyst for The Global Current news program on the student-run radio station, WSOU.
Megan gained valuable professional experience, too. Because she dreams of working as a lawyer for the American Civil Liberties Union someday, she was thrilled to be selected to intern in the nonprofit's New Jersey chapter. "I got to work with clients and contribute to important projects. The experience helped me solidify my interest in law and gain a true understanding of how the legal system works. I am so grateful to my career adviser; without her help and support I don't think I would have gotten this competitive position."
After she graduates, Megan will travel to Taiwan to teach English on a Fulbright Scholarship. She credits the university's Prestigious Fellowships Program and Fulbright program advisor, Dr. Gita DasBender, for working with her on her application and helping her stand out among the many students applying for the prestigious program. Megan is excited that the Fulbright experience will allow her to continue learning Chinese and explore the art and culture of Taiwan. When Megan returns to the United States, she plans to attend law school, having already gained admission — and a full scholarship — to her first-choice school.
Through Seton Hall's diverse curriculum, Megan cultivated an unexpected new passion for art. "I love how it communicates values, and I found that analyzing art helps you understand different cultures, societies and people. Seton Hall's Honors Program helped me look at the world in a fundamentally different way. It taught me to ask important questions. The program provided a perfect balance to my studies, and it helped me develop my creative side. Besides, we got to go on really cool trips to New York City museums and to great music and theater performances."
Seton Hall Career Highlights
Recipient, Fulbright Scholarship
Participant, Honors Program
Team Member, Brownson Speech and Debate Team
Musician, Seton Hall Orchestra
Study Abroad student, Taiwan
Writer, The Diplomacy Envoy
Anchor/analyst, The Global Current news program