What Great Minds Can Do: Kylie Lan Tumiatti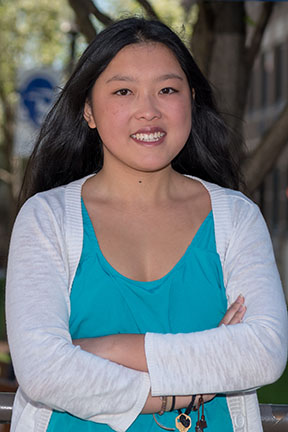 Kylie Lan Tumiatti is a perfect example of what great minds can do at Seton Hall. She completed three internships, spent a semester abroad in Indonesia, participated in a volunteer program in El Salvador and was the recipient of a Fulbright award, a Pickering Foreign Affairs Fellowship and a Benjamin A. Gilman International Scholarship from the U.S. Department of State. She was also offered an internship at a U.S. embassy and a job at the State Department after graduation.
Though many of Kylie's opportunities at Seton Hall were critical, interning in Madrid and helping refugees to resettle held special meaning for her. "Giving someone a second chance is so important to me, particularly because I was adopted," Kylie says.
Serving the community was also important to Kylie — she was involved with the University's Division of Volunteer Efforts (DOVE) throughout her time at Seton Hall. "Going to El Salvador on a DOVE mission trip was the culmination of my Seton Hall experience. It allowed me to bring together everything I learned about servant leadership, about giving back and loving my community. It was an opportunity I will never forget."
"My internships at the White House Historical Association and the Sesame Workshop really opened my eyes. I always thought that the only route to pursue my interests was through government work or the United Nations, but I realized that nonprofits also play a pivotal role. At the White House Historical Association, we were developing curriculums for schools, and at the Sesame Workshop, we were doing outreach in the developing world to teach about subjects like nutrition and HIV prevention."
Kylie took full advantage of the opportunities and support provided by her professors and advisers — they set her on a path to success. "My time at Seton Hall opened my mind; it gave me new perspectives on the world and provided me with more opportunities than I could have imagined."
Seton Hall Career Highlights
Recipient, Fulbright, Pickering and Gilman awards
Participant, Study Abroad Program in Indonesia
Volunteer, in El Salvador
Intern, three leading organizations, including one in Spain
Representative, Model United Nations
Dancer, FLASH dance troupe