What Great Minds Can Do: Kholood Qumei
"Seton Hall really opened my eyes to new ideas, challenged me to look at other perspectives, embrace tolerance and respect and strive to make the world a better place. My time at Seton Hall was so rewarding, I studied abroad for a semester in Morocco, participated in two internships, served as co-chair for the women's conference and served as a translator for an international delegation visiting Seton Hall. Now, I'm off to graduate school at Harvard. My experiences and the constant support from faculty and the SHU community gave me confidence to be a leader at Seton Hall and for the rest of my life."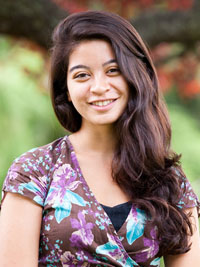 With a Catholic mother from the Philippines and a Muslim father from Jordan, Kholood grew up straddling two cultures and two religions. That didn't stop during her four years at Seton Hall. She threw herself into learning about the long, intertwined history of these religions and organized public events to spur open dialogue about their most controversial aspects. Her study abroad experience in Morocco, her internship at an international human rights organization in Manhattan and her honors thesis strengthened her resolve to continue her scholarship and research into this complex dynamic.
From her first day on campus, Kholood was interested in engaging fellow students about different religious and cultural traditions. One of the things she loves about Seton Hall is the diverse, open-minded and respectful community. Kholood beams, "Everyone at Seton Hall is so wonderful and respectful. It is a very diverse environment with people from different cultures, religions and ethnicities and everyone is extremely interested in who you are and getting to know you."
She loved the Honors Program's intensive seminars on Islam and philosophy and helped make them more widely available to the SHU community by launching the Honors Program Student Association. The Association sponsored evening events in which any student could come have pizza and listen to a professor give a talk on everything from food ethics to Western perceptions of Islam. Outside of class she tutored other students in Arabic, participated in community service projects, participated in TedEx conferences, co-chaired a women's conference and served as an interpreter for an Iraqi delegation visiting Seton Hall.
As a graduate of Seton Hall, she will continue her passion for scholarship and service as she begins a master's program in Theological Studies with a concentration in Islamic Studies at Harvard Divinity School. One day Kholood hopes to be a college professor because as she came to realize, service and scholarship are interrelated, "I see it in my professors … service through education."
Born in Brooklyn, New York, Kholood's family moved to Jordan, when she was 5. In Jordan her mother set up free health clinics at the Filipino embassy for women, mostly domestic workers, who had been beaten and raped.
When Kholood was 12, her family moved back to the States where she took her mother's lead by helping others. At age 14, she spent the summer in Guadeloupe doing volunteer work. The following summer, she went back to Jordan to help her aunt set up a program to teach police officers about violence against women. And the summer after that, she went to a small village in Ghana to help build a kindergarten classroom.
When it came time for college, Seton Hall was a natural choice for Kholood because she saw how committed Seton Hall was to helping society and fostering dialogue and respect for other cultures. During her time here she came to an even greater appreciation for the University's mission of creating servant leaders. "Seton Hall really taught me the importance of giving back and to make this a part of my life, every day of my life. I'm constantly reminded that you need to put others before yourself and that's how you make the world a better place."
Seton Hall Career Highlights
Semester-long study abroad in Morocco
University Honors Program
Founder of the Honors Program Student Association
Interpreter for Iraqi delegation visiting Seton Hall
Internship with Madre, an international human rights organization for women in NYC
Internship with the Arab American Association in Brooklyn, NY
Co-Chair of the Women's Conference
Peer Advisor
TedEx Conference participant
Provost's Scholar
Participation in multiple community service and outreach projects
Arabic tutor for fellow Seton Hall students