What Great Minds Can Do: John Procopio
"I wanted to pursue a major where I could live a life of service, be a leader and still help people. When I first came to Seton Hall, I wasn't sure about a career in education. I remember meeting with one of mentors, education professor Mary Mueller, Ed.D. She helped me to connect my two passions: teaching and service. I don't think that I would be the same teacher that I am today without Seton Hall."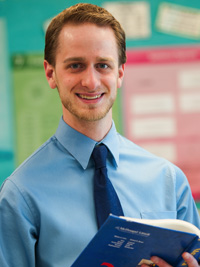 When John Procopio was searching for a college, he asked himself: "What university would best prepare me for a successful career as a teacher?" John's answer, Seton Hall University. He explained that Seton Hall's impressive education program requires students to perform more hours of teaching practicum than any other college in the state of New Jersey. "Seton Hall really prepared me for a career in education. Starting as early as my sophomore year, I was out in the field, completing my required practicums with mentor teachers. The actual process of teaching, lesson-planning and attending parent-teacher meetings proved to me that being a teacher is something I can not only do well, it is also something I truly want to do."
John raves about his experience at Seton Hall and whole-heartedly recommends the College of Human Development, Culture, and Media for anyone planning to become a teacher. "My professors brought the most up-to-date instructional methods and real-world knowledge to the classroom. They taught me how to convert strategies and knowledge gained from coursework into practice. Now, that I have graduated, I am applying those techniques and they are really working."
With a degree in elementary education and mathematics and dual certification in special education, John believes his four practicums with schools in Essex County groomed him for his role as a special education teacher at Summit High School. "The professional experience I gained as a student teacher helped to foster my personal teaching style and gave me amazing tools to continue my development in education."
As a person of faith, John is committed to a life of service. During a spring break service trip, John traveled to El Salvador where he served as a volunteer at a nursing home. He also helped with building a home for Habitat for Humanity and delivered meals to the homeless in Newark. "My faith and decision to become a teacher go hand-in-hand. What better way to lead than to teach? That will be my mark on the world. That will be my life of service."
John is proud to represent Seton Hall. He said the feeling of community and the many opportunities to connect with people were the most valuable part of his experience at the University. "Everywhere you turn, until the day you graduate, and beyond, there is someone looking out for you. I don't think that I would be the same teacher that I am today without Seton Hall."
Seton Hall Career Highlights
Spring break service trip to El Salvador
Habitat for Humanity volunteer
Division of Volunteer Efforts (DOVE) member
Fellowship of Catholic University Students member
Servant Leadership Scholarship recipient
Campus Ministry sacristan
Mission Immersion program in Newark, N.J.