What Great Minds Can Do: Jocelyn Rogalo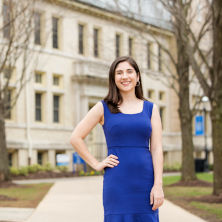 Before coming to Seton Hall University, Jocelyn Rogalo had hardly ever left New Jersey. But by the time she graduated, she had traveled to more than a dozen states, competing as a member of the University's award-winning Brownson Speech and Debate Team. She also traveled to New Zealand, Taiwan, Israel, Palestine and Poland as part of her studies. "On my trip class trip to Israel, we visited more than 30 major religious sites. I learned so much about the world and gained a new perspective on many things."
Jocelyn's Seton Hall experience was further enriched by her work at Pirate TV and WSOU—the University's television and radio stations—and by her countless community service activities, her three internships and her faculty and industry mentors. "In my internships with ABC's '20/20' and '7 On Your Side,' I learned about production and the media industry. We're lucky that Seton Hall is so close to New York City, where all the major networks have studios. This means we have access to amazing mentors. I was mentored by Glenn Schuck, a major figure on 1010 WINS news radio. I was also mentored by a Seton Hall alumnus who runs his own production company; he hired me as an intern."
Jocelyn began exploring her love of broadcasting right away at Pirate TV, anchoring shows and working the camera. She also began working at WSOU as a freshman, progressing from on-air personality to managing more than 25 staff members and working on production and programming. She got to interview a documentary filmmaker and military veterans live from the air on a B-17 bomber. "Seton Hall lets students lead and do things on their own. It's is a great way to learn and understand a process from the ground up. My time at Pirate TV and WSOU definitely helped me explore and develop my passion, skills and confidence, not to mention my resume."
Jocelyn credits many of her growth opportunities to the Seton Hall faculty, who have always been supportive and pushed her to be her best. "They saw my talent and encouraged me, they believed in me before I realized what I could do; I owe so much to them for their mentorship."
At Seton Hall, Jocelyn found a community of faith in a place that supported and strengthened her values. She has deepened her faith here. "My Catholic faith is very important to me, and Seton Hall has really helped me to facilitate a confidence in that. I found a community I could share this with. I felt really lucky to travel to Poland at the end of my freshman year for the World Youth Day ceremonies."
"Even though Seton Hall is a small campus and has a small community, the opportunities are huge. I thoroughly believe if I went anywhere else, I would not receive the same opportunities. Because we have a small student body, the opportunities can be spread to more people. So instead of having just one or two big opportunities, I feel like I have had a whole bucket full of them."
Seton Hall Career Highlights
Three media internships
Study abroad trips to Israel, Palestine, Poland, Taiwan and New Zealand
Co-captain; Brownson Speech and Debate Team
DJ and News Director; WSOU
Member; Pirate TV