What Great Minds Can Do: Gabrielle "Gabi" Hunt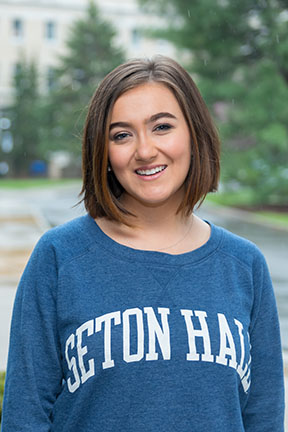 Even before she enrolled at Seton Hall University, Gabrielle "Gabi" Hunt knew it was the place for her. "I love Seton Hall because I think Seton Hall loves me back. It may sound cliché, but I have always felt as if Seton Hall wanted me to come here and wants me to thrive. So many people support me. They want to develop my skills and talents."
Gabi has certainly thrived at Seton Hall. She has made academic visits to the CIA, the Council on Foreign Relations and Al Jazeera, completed three internships, and participated in a community service trip to El Salvador. She spent a semester abroad in Jordan and attended an intensive seminar at the United Nations, which included attendance at a U.N. Security Council meeting and hearing from former U.S. Ambassador to the United Nations Samantha Power.
At Gabi's internship with the Middle East Policy Council, a nonprofit think tank in Washington, D.C., she completed research for policy briefs and copy edited items for the peer-reviewed journal Middle East Policy. She also helped develop ideas and produce articles for TeachMideast, an educational outreach initiative that provides K-12 educators with information and tools to enrich classroom discussions about the Middle East.
This internship put Gabi on the radar of the National Council for U.S-Arab Relations, and as a result, she received a Paul Findley Fellowship, an honor given to only three students in the country. As part of the fellowship, she gave a presentation at an annual Arab-U.S. Policymakers Conference. There she spoke in front of an audience of 800 people, including Prince Turki al-Faisal Al-Saud.
"This is something I will hold dear to my heart for many years. But most exciting, I was invited on an educational exchange program to Saudi Arabia. It was amazing to experience a country not yet open to tourism that many people don't have the opportunity to see, especially someone who is only a senior in college."
"I definitely don't think I would have gotten the same opportunities, or even the same caliber of opportunities, if I had gone to another school. When I look back on my four years at Seton Hall, there has been a snowball effect where one thing has led to another. I think that's only been possible because Seton Hall is a small community where people care and share information. I believe I would not have been chosen as an emerging leader in a bigger school with a bigger program."
Seton Hall Career Highlights
Paul Findley Fellowship (included seminars in Saudi Arabia)
Study Abroad; Amman, Jordan
President, Ecology Club
United Nations seminar, participant
Diplomacy Envoy, managing editor
DOVE service trips to Philadelphia & El Salvador
Speaker, Arab-U.S. Policymakers Conference