What Great Minds Can Do: Emma Tobin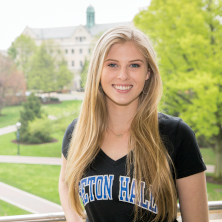 Emma Tobin arrived at Seton Hall with her heart inclined toward civil service and armed with an unwavering desire to make a difference. Over four years, the California native enjoyed a fruitful academic journey, filled with notable — and rewarding — accomplishments.
Emma completed five internships, participated in two mission trips to El Salvador and studied in Southeast Asia. She also received multiple prestigious awards: a Boren Award for language studies, a Truman Scholarship for public service leadership, a Rotary Global Grant and a Department of State Critical Language Scholarship.
Through Seton Hall's School of Diplomacy and International Relations, Emma completed a State Department internship at the U.S. Consulate in Dubai, which became a pivotal experience in her professional development. "I met incredibly selfless public servants who believed in the goodness of American people and were willing to give it all for what they believed in."
One of these public servants, a survivor of the 1998 U.S. Embassy bombing in Nairobi, became Emma's mentor. "To learn from such a noble American was really inspirational to my journey and career path," she says of the man, who committed his life to protecting others from terrorism.
Emma secured another State Department internship at the United Nations in New York, where she became an integral part of the team. "I worked through all of the U.N. General Assembly, which is something that a lot of college students don't think they will ever be able to say. I got to sit at the U.S. desk, be the U.S. representative and speak up at negotiations. Every resolution that we made affected people around the world. I was there, and I got to be a part of history."
Emma also made her mark on campus. She participated in charitable events and mentored others in the Women in Diplomacy Leadership program. She also founded a sexual assault education and alcohol awareness organization on campus to teach students about these issues. "I care deeply about women's rights issues, both domestically and internationally. That's what I would like to do for the rest of my life. I am grateful Seton Hall gave me an opportunity and a vehicle to pursue that passion on campus."
Emma has just begun a professional journey filled with promise; next she will pursue a graduate degree at the University of Oxford, using the $30,000 Truman Scholarship and her $36,000 Rotary Global Grant to prepare for a public service career. "I love Seton Hall because it made me dream bigger than I would have ever dreamt and made me think more critically of my actions and my place in this world. It has made me into a change-maker instead of just a student. I know I'm going to step into the world and be a professional public servant who is prepared to take on all of the challenges ahead of me."
Seton Hall Career Highlights
Recipient; Boren, Critical Language, Truman and Rotary Global awards
Five internships
Admitted student; University of Oxford
Published Writer; Esra Magazine, The Algemeiner and Worldcrunch
Recipient; Servant Leader and Captain Gregory Dalessio Scholarships
Recipient; Student Leader Award
Study Abroad; Southeast Asia (Gap Year)
Vice President; Know More- Peer Educator
DOVE Service Trips; El Salvador
Mentor; Women in Diplomacy Leadership program
Volunteer; St. John's Soup Kitchen
Member; Student Alumni Association
Member; Zeta Tau Alpha
Member; Student Activities Board