What Great Minds Can Do: Emily Slate
Emily Slate
Nursing major
Augusta, New Jersey
"I love the faculty — my nursing professors especially. They are passionate; they want to invest in the next generation of nurses."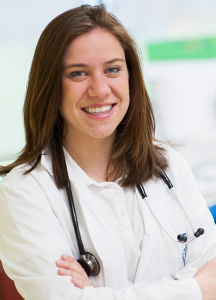 After providing clinical nursing care in rural villages in the Philippines and finishing a competitive paid externship in Houston, Emily Slate realized her nursing education was far from ordinary. For one thing, Emily got an early start on nursing classes. "I chose Seton Hall because it offered direct admission to the nursing program; I was able to start my nursing classes my freshman year."
In addition, Emily's Seton Hall connections led her to a coveted summer externship in the Houston Methodist Hospital at the Texas Medical Center, where she was provided with a salary and housing. Only a handful of students from universities across the United States — including the University of Pennsylvania, Purdue University and the University of Illinois — were selected for the program. Emily worked three 12-hour shifts a week in the hospital's Neuro ICU, Cardiovascular ICU and Medical ICU.
Through this experience, Emily realized just how lucky she was to attend Seton Hall. "None of the students from other nursing schools had as much varied experience as I did. Many students learned in only one hospital. But I had diverse experiences — in seven different hospitals. I saw how various hospitals operate and experienced different approaches to patient care. I learned to be adaptable and flexible because each hospital had different policies, technology and equipment."
Emily draws inspiration from her Seton Hall professors. "I love the faculty — my nursing professors especially. They are passionate; they want to invest in the next generation of nurses." Emily believes she has benefited from the high level of respect Seton Hall has in the nursing profession — because of its history and reputation, and because so many Seton Hall faculty are well placed and active in nursing research and policy. "The greatest advantage of Seton Hall is its people. They know you — your strengths and weaknesses and your goals."
At many schools, nursing students are rarely able to study abroad. At Seton Hall, Emily was able to go abroad twice. On a trip to Rome to learn about Christianity, Emily was amazed to see how much access Seton Hall's connections gave them to the Vatican. On a trip to the Philippines, Emily and a group of Seton Hall nursing students and professors joined Filipino nursing students in and around Manila to work in rural and urban clinics and conduct home visits and community health nursing.
Having attended public schools, Emily didn't know what to expect from a Catholic university and was surprised at how diverse the school is. "There are so many people from different backgrounds and religions. We all feel welcome and we can freely share ideas and learn from different perspectives." Emily says she learned what it means to be a servant leader at Seton Hall. "I learned the importance of helping others and giving back to society. My experiences at group homes and soup kitchens helped ground me and put things in perspective when I was stressed out. Seton Hall instills this desire to help in all of its students; but as a nurse, this emphasis on compassion is invaluable."
Seton Hall Career Highlights
Seven clinical rotations at prestigious hospitals such as Hackensack University Medical Center, Somerset Medical Center and Valley Hospital
Competitive paid externship at Houston Methodist Hospital
Study abroad with a clinical component in the Philippines
Study abroad trip to Rome
D.O.V.E. community service projects
Member, Student Nurse Association
Resident Assistant
Sigma Theta Tau International Honor Society of Nursing