What Great Minds Can Do: Delores Sarfo-Darko
"One of the things I love best about Seton Hall is its commitment to servant leadership – or giving back to the community. Because of this commitment, I have been able to start my own soon to be non-profit organization with two fellow students, the Little Misses Forum – which was recently featured on CNN."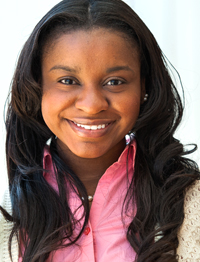 When she visited Seton Hall as a high school student, she just knew this was the right place for her. "I visited Seton Hall and fell in love with the campus and community. Everyone was so friendly and welcoming; the Green was full of students hanging out and enjoying the beautiful campus."
Delores always knew she had a calling to help others and right away she got involved working in local soup kitchens and community centers. But it wasn't until she met with her career adviser that she found a way to combine her interest in helping others with her future career path in social work. "My career counselors were so helpful, I wasn't really sure what I wanted to major in or what I wanted to do with my life but The Career Center gave me skill and personality assessment tests and social work was one of the recommendations. I thought that was just perfect." Now she has already had three internships in the field: at AIDS Resource, Jersey Cares and Brick Avon Academy.
One of the things Delores loves about Seton Hall is how well it develops students to be servant leaders. "Students are always creating their own clubs, organizing their own volunteer opportunities or leading their own programs," she says. "They share their interests and passions with each other, taking advantage of all the resources and opportunities here. The community is so diverse and I have had the opportunity to work with and learn from so many different types of people. It is truly a community of leaders."
Delores honed her leadership skills by chairing programs that bring awareness to social issues, serving as a resident assistant, participating in the Martin Luther King Jr. Scholars Association and by starting her own non-profit outreach organization called the Little Misses Forum to help educate and empower young girls. She began the non-profit with two fellow classmates and was recognized by CNN for this exciting initiative. "These leadership opportunities, combined with my three internships, have really prepared me for my career in social work and non-profit management."
Seton Hall Career Highlights
Internship with Jersey Cares, a non-profit outreach organization
Little Misses Forum Organization, Co-Founder (featured on CNN)
Internship with AIDS Resource
African Student Association Dance Troupe, Member
Internship with BRICK Avon Academy
Dr. Martin Luther King Jr. Scholarship Association
Alpha Kappa Alpha Sorority, Inc., Rho Upsilon Chapter Member
Omicron Delta Kappa, Vice President
Resident Assistant
National Residence Hall Honoree