"I couldn't have gotten my internship with the Clinton Foundation or the Mexican Consulate without my adviser and the School of Diplomacy. They connect you with opportunities and give you the tools you need, even preparing you for interviews."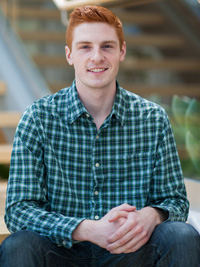 Long before the ink was dry on his diploma, Seton Hall's David Kelly was on his way to building a rewarding international career. His college experience included everything from learning how to speak Mandarin to winning a Fulbright scholarship.
David has accomplished a lot, and with the help of his adviser, he obtained an internship his freshman year with the Mexican Consulate, where he gained experience in diplomatic and foreign affairs. "Seton Hall's top-ranked internship program provided me with hands-on opportunities and the know-how to succeed," he explained. David also headed to China, and received on-the-job training with a leading technology company in Taiwan. Through his internship, David obtained a better understanding of global marketing strategies.
He also took home the $5,000 first prize during the annual University-wide Pirate's Pitch competition. Through Seton Hall's Stillman School of Business, he created a winning plan to manufacture solar cell phone chargers for developing countries.
David had ample opportunity to conduct scholarly research with his professors. His investigation on U.N. Security Council sanctions against China and Russia allowed him to present his insight and analysis at a national conference. "Being involved in research was a tremendous learning opportunity," he said. "There's a personal learning component to the work students do at Seton Hall, which allows us to make a real contribution to the world."
A dual major in diplomacy and international relations and modern languages, David spent two semesters studying abroad: one in China and the other in Russia. Though he travelled to China with limited language skills, after a full semester in the country, he is now fluent in Mandarin. David always knew he wanted to study abroad, and he said the classes he took and the lessons he learned overseas will be vital to his profession.
Seton Hall's easy access to New York City enabled him to land an internship with the Clinton Foundation. While working there, David expanded his knowledge of sustainable growth in Latin America. In addition to his academic fieldwork, David said his Seton Hall internship experiences helped him prepare for interviews and polish his resume.
The West Chester, PA, native said he is grateful to his Seton Hall professors for helping him realize his dream and for the wide-range of resources the University offers. After graduation, David plans to put his Fulbright scholarship to good use and continue his academic research.
Seton Hall Career Highlights
U.S. Fulbright scholarship
Internship at the Clinton Foundation
Internship at the Mexican Consulate
Internship at Cybertech Corporation in Taiwan
First-place; Pirate's Pitch business competition
Studied abroad in China and Russia