What Great Minds Can Do: Darryl Sessoms
Darryl Sessoms
Marketing major
Union, New Jersey
"I felt so confident having Seton Hall on my resume because I know it stands for excellence, and employers know it too. I really feel my four internships and my leadership experiences at Seton Hall helped me get my job at CBS."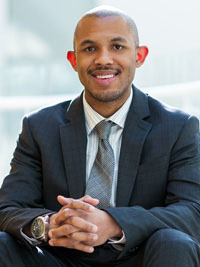 Graduating with honors in just three and a half years and completing four amazing internships was something Darryl Sessoms never dreamed of. With a Seton Hall degree on his resume, Darryl landed a great job at CBS before he even graduated. "My time at Seton Hall was unbelievable. I owe everything to Seton Hall."
Being the first in his family to attend college and coming from an underprepared background, Seton Hall nurtured and challenged Darryl every step of the way. "My professors gave me the confidence to succeed in the classroom. They pushed me to excel." The University's hands-on approach to learning enhanced his college experience and prepared him to be a global citizen. "The professors brought real-world knowledge into the classroom. Their expertise provided me with the insight I needed to be competitive in the workplace."
One of the main things Darryl gained at Seton Hall was a career edge. The ambitious marketing major took advantage of the University's top-ranked internship program, and obtained internships at ESPN, Robert Wood Johnson, Novartis Pharmaceuticals and Avaya. "My internships were awesome. I received on-the-job training at reputable companies. I did market research, planned events, and developed my technical skills by learning how to use macros and pivot tables and was able to build a very strong resume."
Darryl credits much of his success to the support of the Seton Hall community. "Everyone here really cares about you; the faculty and staff believe in you and push you to succeed, especially the career center. I started working with them freshman year and attended at least five career fairs on campus." The University's career center also paired him with an alumni mentor, an executive at Johnson & Johnson. Darryl said this gave him invaluable professional insights and guidance.
Beyond classes and internships, Darryl honed his leadership skills by getting involved in campus clubs and activities. He wrote for the University's Business newspaper, The Stillman Exchange, and was elected president of the marketing club.
Darryl attributes Seton Hall's supportive environment with inspiring him to change the lives of others, and ultimately becoming a peer adviser. "Seton Hall gave me a chance and made a difference in my life. My greatest accomplishment is how I've grown as a person," he said. "I am so grateful and wanted to make a difference in the lives of others, just as Seton Hall did for me."
He also expressed his fondness for giving back to the community and being a servant leader. "To lead by example and respect and honor those you serve, it is one of the many lessons I learned at Seton Hall."
Seton Hall Career Highlights
Internship at ESPN
Internship at Avaya
Internship at Novartis Pharmaceuticals
Internship at Robert Wood Johnson
Peer adviser
Reporter for The Stillman Exchange
President of the marketing club