What Great Minds Can Do: Danielle Andreani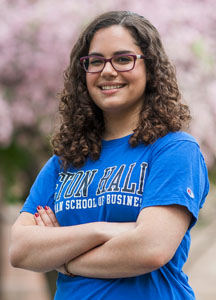 "I would not have had so many amazing opportunities at a larger school because the faculty at Seton Hall are so supportive. Everyone here is intent on helping you succeed and grow - from helping me get my four internships to pairing me with an amazing corporate mentor and giving me the chance to study abroad three times. Seton Hall has given me confidence and changed my life forever."
By the end of her junior year, Danielle Andreani had completed four internships, attended three study abroad programs and conducted research for local businesses with her professor. She also wrote for The Stillman Exchange, performed with the Seton Hall orchestra and concert band and made a contribution to the community through numerous service projects. "Seton Hall changed me. It gave me confidence and helped me learn to be a leader. If I hadn't come here, I know I would not have had these life-changing experiences."
Seton Hall adds value and real-world experience to our students' education by pairing them with corporate mentors. Our career center begins working with students as early as their freshman year, and Danielle credits the career center as well as her professors with helping her land important internships.
Her internship at Fox Broadcasting Company ignited her passion for marketing and gave focus to her studies. The experience allowed her to put her marketing skills to use and present her work to more than 100 Fox executives. Her internship at Wakefern Foods, New Jersey's largest employer, included one-on-one mentoring from the CEO. "He spent an entire year involving me in all aspects of business operations," Danielle says.
In addition being given crucial opportunities for career development, Danielle was also able to satisfy her passion for music at Seton Hall through the concert band and orchestra. "It's one of the great things about Seton Hall. I can still get involved in music and keep this part of me, while I focus on business and develop my marketing skills for my career."
Danielle found a real home away from home at Seton Hall. "The faculty at Seton Hall truly care and they take the time to get to know you and help you succeed. It feels so welcoming here, like a family. I know my friends at larger schools have not gotten this type of attention and certainly have not had as many great opportunities."
Danielle has enjoyed Seton Hall's proximity to New York City along with perks such as heavily discounted tickets to shows at top venues for as little as five dollars. "I've seen Wicked, Mama Mia, Jersey Boys, Pitbull, Enrique Iglesias and more. The University always plans lots of activities - both in the city and on campus. It has helped me make friends and build great memories."
Seton Hall Career Highlights
Four internships, including Fox Broadcasting Company, Wakefern Foods and Today's Business
Study abroad in Spain, Portugal and Greece
Leadership Development Honors Program member
Concert band and orchestra member
Stillman Exchange writer
Beta Gamma Sigma member
Golden Key Honor Society member
Marketing Club member