What Great Minds Can Do: Cynthia Sularz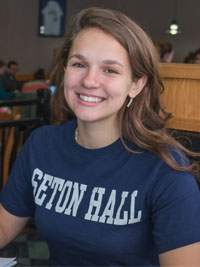 "The mentorship I received from the faculty at Seton Hall provided me with amazing opportunities that I'm not sure I would have gotten at another school. I've been able to study abroad three times, obtain two impressive internships, work on a research project with our dean and represent the United States at the G-20 Girls Summit in Australia."
In her sophomore year, Seton Hall's Cynthia Sularz was selected as the only person in the entire country to represent the United States at the G-20 Girls Summit in Australia. Just 24 nations sent promising young leaders to the summit to address issues of empowering women and girls, and participants developed ideas that were presented to leaders in G-20 nations. "I believe my strong research skills and the academic writing samples I used to support my application made me stand out as a candidate. I have the Seton Hall faculty to thank for helping me excel." And excel she has. As a senior, Cynthia was awarded a prestigious Fulbright scholarship.
Attending the G-20 Girls Summit was just one of Cynthia's many college experiences abroad. She also studied in Poland, Germany and Russia. She credits the support and assistance of Seton Hall alumni and faculty for these opportunities. "When I was in Germany, I called one of the deans at all hours. She always got back to me right away and helped me plan my schedule and internships for the coming semester. It was wonderful to know that no matter what time zone or continent I was on, I always felt supported by Seton Hall."
Seton Hall's proximity to New York City and the United Nations opened many doors for Cynthia. "I have seen amazing speakers on campus and at the U.N.: Michelle Obama, Susan Rice and Hillary Clinton. I even got to interview Madeleine Albright." Cynthia was able to compete in several international model U.N. conferences. She also worked at U.N. conferences several times a year. "I know this wouldn't have been possible without Seton Hall's great location and its connections to the U.N."
Cynthia credits Seton Hall with developing her writing, research and analytical skills. "Through writing for The Diplomatic Envoy and working with the dean on a genocide prevention research project, I sharpened my skills and developed a strong portfolio of published work. Overall, Seton Hall helped me to grow substantially in my career and in my own personal development. I am really grateful for that."
Seton Hall Career Highlights
Fulbright Scholar
U.S. representative to G-20 Girls Summit in Australia
Study abroad program participant in Russia, Germany and Poland
Grassroots organizer and blogger, Girl Up
Internship, Corporate Responsibility Group, Eileen Fisher
Internship, Peace Women
Genocide Prevention Research Project participant, working with the dean
Writer; The Diplomatic Envoy
Participant, Model U.N. and Global Classrooms Initiative