What Great Minds Can Do: Clayton Collier
Clayton Collier
Journalism major
Port Jefferson, New York
"I got to be on the air at WSOU right away. Four years of on-air radio experience, working on The Setonian and Pirate TV, along with three great internships at New York-area television, radio and print media outlets — I am finishing my senior year with more opportunities and expertise than I would have gotten at a larger school."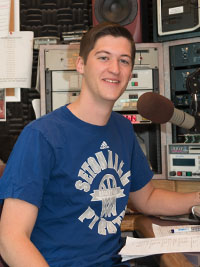 Clayton Collier started working at Seton Hall's radio station, WSOU, the day he stepped on campus. Within months, he was in California, broadcasting a Seton Hall women's basketball game. In time, Clayton covered everything from former Seton Hall baseball player Craig Biggio's induction into the National Baseball Hall of Fame to the BIG EAST Men's Basketball Championship. "WSOU offers great hands-on learning. From story development to production, it's the students who run the station. At WSOU, I learned how to operate a radio station." Clayton also worked on the school's newspaper, The Setonian, and on its broadcast station, Pirate TV.
Seton Hall's career center helped Clayton get an internship at CBS, which led to a part-time position at the network, where he wrote about fantasy football and March Madness. "Being located 30 minutes from New York City is an advantage. Seton Hall has many connections and alumni who are willing to help."
Later, Clayton added internships at the SNY sports network and Times Beacon Record Newspapers. At the newspaper group, he wrote weekly articles and got to meet sports legends, and his internship led to a freelance position with the group. "What's great about Seton Hall is if you take advantage of the opportunities, there are many great things that happen. I got to build an extraordinary portfolio and be on the air. I couldn't imagine having these opportunities elsewhere."
Clayton's real-world experiences gave him the chance to build an extensive resume. They got him noticed, too. He remembers that when Seton Hall upset Villanova in a basketball game he covered, he received an email from ESPN's Bob Ley, a Seton Hall alumnus, saying he was "impressed with my broadcasting skills and telling me I did a great job covering the game."
With all his career-related endeavors, Clayton also found time to give back. He and a group of other students participated in a service-learning trip to Limerick, Ireland, where they worked with impoverished youth. Clayton also helped found Seton Hall's a cappella group, Gentlemen of the Hall. The group performed the national anthem during a New York Mets game and sang at the home of Mary Higgins Clark, the best-selling author of suspense novels.
Clayton has expressed his gratitude for Seton Hall's faculty members, whom he found to be very caring and whom he regularly saw bring expertise from the field into the classroom. He says he deeply appreciates the amazing opportunities he knows he would not have gotten at a larger school. "Choosing Seton Hall was the right decision for my career. It gave me tremendous exposure to the field of sports journalism and helped me develop tangible skills. It gave me mentorship and an amazing network of professionals. It definitely helped me build my resume. I am prepared to break into this very competitive field."
Seton Hall Career Highlights
Internships at CBS, SNY and Times Beacon Record Newspapers
Freelance writer, CBS and Times Beacon Record Newspapers
On-air personality, WSOU
Member, Pirate TV
Writer, The Setonian
Founding member, Gentlemen of the Hall a cappella group, which sang the national anthem at a New York Mets game
Service trip to Limerick, Ireland