What Great Minds Can Do: Charlie Mule
Charlie Mule
Journalism major
Toms River, New Jersey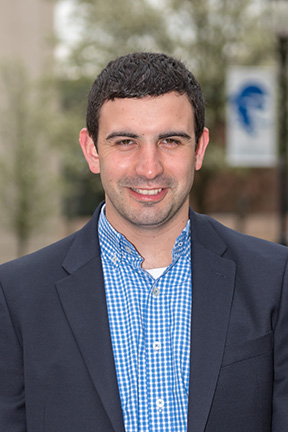 Charlie Mule interned for the New York Mets before landing a full-time job in the team's public relations department after graduation. "I interviewed for my internship with Jay Horwitz, a famous Mets PR guy. He's been around since the '80s and is well known in Major League Baseball and media relations. He took a look at my resume and said, 'I've never seen a resume this full for someone still in school.'"
It's no wonder: Charlie graduated having completed six targeted internships — Madison Square Garden/New York Rangers, the Atlantic Baseball Confederation Collegiate League, Yes Network, The Sports Journal, the New York Mets and the New York Giants.
Charlie's internship with the Giants came through Seton Hall's Career Center. "Not only did I get an internship with the Giants, I was also selected by the NFL's public relations department to work at the Super Bowl in Houston. I never imagined that as a junior in college I would be standing on the 30-yard line during the fourth quarter of a Super Bowl. I like to say the Career Center got me to the Super Bowl."
In addition to an outstanding public relations program, Seton Hall also offers a focused sports media minor. "Having specific courses in sports media can really help people trying to get into that industry," Charlie says. "Important people from Sports Illustrated came in to teach classes, and Seton Hall has amazing alumni like Dick Vitale and Bob Ley. We have access to speakers like David Stern, the former NBA commissioner. It is really impressive."
"I am leaving Seton Hall so confident," Charlie says. "I think students at Seton Hall are given so many opportunities and advantages. If you come out of here unprepared, you did something wrong."
Seton Hall Career Highlights
PR intern, Super Bowl LI
Intern, the New York Mets and the New York Giants
Intern, Madison Square Garden and Yes Network
Member, Student Public Relations Society
Volunteer, Service on Saturdays
Captain, men's club hockey team