What Great Minds Can Do: Caroline Weeks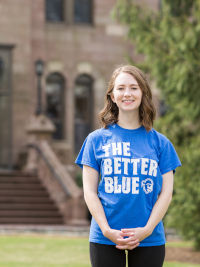 With four internships, seven corporate mentors, two study abroad opportunities, and three job offers under her belt, Caroline realized just how influential Seton Hall had been in her life. "I definitely would not have had the opportunities and experiences I got at Seton Hall anywhere else," she says. "Here everyone is always looking out for you, trying to help you — even when you don't ask. It is like having a whole community behind you, rooting you on."
Caroline found opportunities and advantages at every turn. One mentor gave her advice over the phone on Thanksgiving Day. One of her professors asked her to join her supply chain management research team. "I got to go to Chicago and present at a national conference with [my professor]. I was one of the only undergraduates there; it was an amazing opportunity." Yet another professor noticed her talent for data visualization and recommended her for a scholarship and a research assistant position. "I didn't even ask my professor, he just recognized my potential and wanted to support me."
After studying abroad in London, Caroline spoke with her professor about her interest in working in the city after graduation. "Immediately she started working to help me and put me in touch with a contact at J.P. Morgan in London."
Contemplating three job offers in senior year is an enviable position and one that Caroline credits to the internships and strong connections she made through Seton Hall. She has special gratitude for her career adviser. "I can't even count how many times I've been to his office, called him, and relied on him to help me and give me advice."
Caroline chose to accept a job offer from Quest Diagnostics in its Finance Leadership Development Program. "I met two Seton Hall alumni there, and I felt a sense of support and belonging that made me feel like I would thrive there just as I have been able to do at Seton Hall."
Seton Hall Career Highlights
Study Abroad in India & London
Seven corporate mentors
Four internships
Member; CBXmarket University Challenge Team