What Great Minds Can Do: Anna Negron
"I love that my professors not only teach, they also continue to work in their fields. This adds so much to my education. For example, my marketing professor, Dr. L, is chairing the social media committee for the Super Bowl; he is able to bring to life tangible, real-world concepts and makes what we're learning in our textbooks more relevant. The benefit I derive from this level of expertise, coupled with writing for The Stillman Exchange, studying abroad in Peru, and my three internship opportunities — as a media relations intern for the NY Mets, a PR intern for Bella PR and for IMG, working on the marketing campaign for Mercedes-Benz Fashion Week — have been truly amazing. I feel so well prepared for any career and know Seton Hall has given me the skills, experience and confidence to be successful."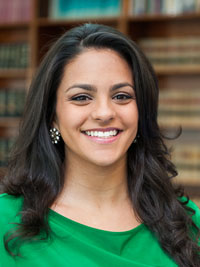 In high school, Anna Negron's dream was to intern with the New York Mets and at IMG [the global sports and media company]. At Seton Hall, she was able to realize her dreams. "I wouldn't have gotten these internships if it weren't for Seton Hall's Career Center," she says. "My career mentor was so supportive, helping me build my resume and hone my interview skills. She helped me stand out as a candidate and really cared about my success — so much so that she even called me right before my interview with IMG to make sure I was prepared and calm. I couldn't have asked for more."
One more internship rounds out Anna's work experience. She interned at a local public relations firm, Bella Public Relations. And her writing for The Stillman Exchange, Seton Hall's student-run weekly business newspaper, has further developed her communications skills as well as her presence as a public figure on campus.
But Anna doesn't need much help being in the public eye. She spends her free time as a member of the Seton Hall Dance Team and sings the national anthem at Seton Hall sporting events. "I love being a Pirate and I am proud to attend Seton Hall. Sports bring us together as a community and I am glad I get to be a part of that experience." She has even performed the national anthem at Knicks, Nets, Red Bulls and Sixers games.
Anna is a star both on and off campus. She competed in the Miss New Jersey pageant and won the title of Miss South Shore Area. She was also a top-10 and top 5 finalist for Miss New Jersey.
In spirit of true servant leadership, Anna still finds time to give back and volunteers with the Children's Miracle Network and at the Children's Specialized Hospital — bringing cheer and treats to the young patients. Anna says "it is humbling to speak to these children. I bring a little joy to their lives and they change mine."
Anna's favorite part about Seton Hall is the faculty. She believes her professors each bring something different to the classroom and share their expertise — not only are the professors in the classroom but many are also still working in their fields, which "really helps keep things on the cutting edge — they know what is going on in business today."
When she graduates, Anna hopes to work in public relations and marketing for the sports world. She is confident that with her stellar academic preparation, Seton Hall's strong reputation, and the prestigious internships on her resume, she will yet again realize her dreams. "Because of Seton Hall, I am prepared to achieve my goals and tackle any job."
Seton Hall Career Highlights
Internship at the New York Mets in Media Relations
Internship at IMG in the Fashion Department
Internship at Bella Public Relations
Internship at Madison Square Garden
Seton Hall Dance Team Member
Sports Writer for The Stillman Exchange
Sings the National Anthem during Men's and Women's Basketball Games as well as other Seton Hall Events
Study Abroad in Peru, "Doing Business in Peru"
Work Study Student in the Teaching, Learning and Technology Center
Volunteer at the Children's Specialized Hospital
Miss South Shore Area
4th runner up to Miss NJ