What Great Minds Can Do: Andrew Aguilera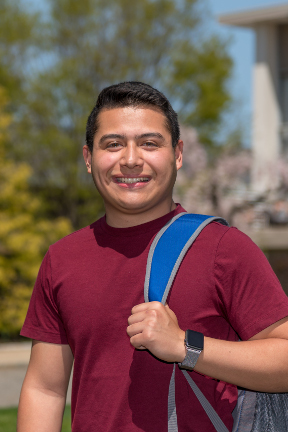 Andrew Aguilera packed in an incredible number of opportunities at Seton Hall. He wrote for the business school newspaper, The Stillman Exchange; studied in Barcelona, Spain; found time to play three intramural sports; served on student government; and traveled around the country with the Pep Band cheering on the basketball team. He also founded the Seton Hall chapter of the Food Recovery Network and participated in the University's Business Leadership Program.
That's not all. Andrew also interned at Prudential Financial Inc., PriceWaterhouseCoopers (PwC) and Fox News, where he analyzed digital media campaigns. Andrew credits the Career Center with helping him secure his internships. "The Career Center helped me with my resume and my interview skills. I attended all of their career fairs. In fact, I attended my first career fair after being at Seton Hall for just a month, and this led to one of my internships."
Andrew attended Prudential's Leadership Conference as a freshman, which led to an internship with the company the following year. In all, Andrew attended six leadership conferences at companies such as PwC, Ernst & Young, Deloitte, KPMG and Google in Mountain View, California. Afterward, he received internship offers at Google and at several top accounting firms, but he chose to intern at PwC.
That decision paid off after his junior year, when he accepted an offer for a job after graduation as an auditor in the healthcare industry for PwC. "It was so amazing to sign a full-time job offer by the end of my junior year. It was like a huge weight was lifted. It was my dream to join a Big Four accounting firm, and I achieved it, thanks to the opportunities and experiences I was exposed to at Seton Hall."
"Everywhere I went, I encountered Seton Hall alumni," Andrew says. "At PwC and Prudential, the alumni reached out to me, took me to lunch, gave me advice. It was great to know that there are Pirates everywhere willing to help and support me." Andrew loves that Seton Hall is just minutes from New York City, not just because the capital of finance is at his doorstep, but also because it offers plenty of opportunities for fun. "My friends and I went into the city often," he says. "We saw Wicked on Broadway and got to see the Mets and the Yankees. And even though it's so easy to get to New York from Seton Hall, I loved staying on campus; there are lots of activities, and it is such a friendly, welcoming place. When I am on campus, I know I am home."
Career Highlights
Study abroad; Barcelona, Spain
Pep band; Member
Food Recovery Network chapter; Founder and President
The Stillman Exchange; Digital Editor
Student Government Association; Member
Business Leadership Program; Participant
Intramural sports; Flag Football, Floor Hockey and Basketball
Internships; Prudential, PwC and Fox News
Six conferences; Attendee