What Great Minds Can Do: Amy Gao
Amy Gao
Biology major
Livingston, New Jersey
"I've had so many opportunities at Seton Hall that I wouldn't have had at a larger school–working with Dr. Ko on research starting in my freshman year; shadowing a cardiologist and a pediatrician; participating in a highly competitive summer research program at the Children's National Medical Center and being provided funding from the University. The support is amazing and everyone really cares about me and my success."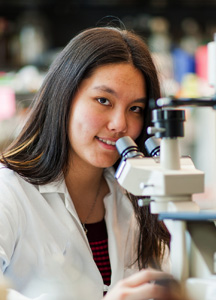 One of only two students in the nation to be selected for a highly coveted research spot at the Children's National Medical Center in Washington, D.C., Amy Gao never dreamed she would have the kind of opportunities she obtained at Seton Hall University. "My time at Seton Hall taught me to be a strong researcher and gave me insight into the medical profession. It's more than I ever imagined. I don't think I would have gotten the same experience if I went to another school."
In her freshman year, Amy started working with her biology professor Jane Ko on a research project to help stroke patients. She continued her lab work during her time at Seton Hall and presented her findings at the University's prestigious Petersheim academic exposition.
Amy's pre-med adviser paired her up to shadow two physicians. One was a pediatrician and the other was Dr. William Salerno '78, a cardiologist, who was her alumni mentor. Amy observed medical procedures, reviewed patient charts and read EKGs. "I couldn't believe how much I learned from Dr. Salerno. He was patient and helpful and spent so much time mentoring me. He really taught me about being a doctor in a way I couldn't learn from my classroom experience."
Amy was surprised to learn just how much going to a school with prominent and involved alumni really matters. Not just because of the experience she had with Dr. Salerno, but also because of the support she received from other distinguished alumni, who funded her travel and living expenses for her research program at the Children's National Medical Center.
Her real-world training experience expanded across the globe as Amy spent a summer volunteering at Beijing's renowned Fuwai Cardiovascular Hospital. There she shadowed physicians, reviewed patient charts, observed procedures and gained a completely new perspective on medicine. "One of the things I love about Seton Hall is they encourage and create so many opportunities for hands-on learning. Seton Hall truly broadened my world view and gave me the focus and skills I need to pursue my dreams."
Seton Hall Career Highlights
Participated in a coveted research program at the Children's National Medical Center
Volunteered at the renowned Fuwai Cardiovascular Hospital in Beijing, China
Conducted neuroscience research starting in her freshman year
Presenter at the Petersheim academic exposition
Muscular Dystrophy Association volunteer
Treasurer, Alpha Epsilon Delta
Treasurer, Golden Key Honor Society
Senator, Student Government Association
Alpha Phi Omega member