What Great Minds Can Do: Albery Paula
"I would not have had the same opportunities at another school. The inspiring, supportive faculty at Seton Hall opened many doors for me. We are like family here."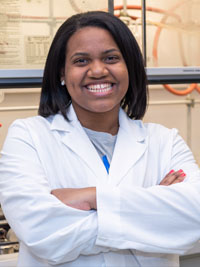 A trip to Honduras as part of Seton Hall's Global Medical Brigades group helped biochemistry student Albery Paula apply lessons she learned in the classroom. "We helped treat more than 800 patients." The experience gave her important life lessons, too. "One patient had diabetes, and I asked her how I could best help her. She told me I was making a difference just by speaking with her. That made me realize just how important it is to let patients know you care. I will carry this lesson with me, and I know it will make me be a better doctor."
Albery moved to the United States from the Dominican Republic when she was 11 years old and she struggled at first to learn English. Yet by the time she graduated from high school, she finished in the top 5 percent of her class. She chose Seton Hall because it is Catholic and because it felt like such a welcoming and diverse community when she visited.
"I was able to grow in my faith at Seton Hall. People really saw me and cared about me here. They were always looking for ways to support me and give me advantages and opportunities. I don't think I would have gotten similar opportunities at another school."
As a sophomore, Albery began conducting research alongside her organic chemistry professor, James Hanson, helping him develop hydrophobic coating materials that may prevent rust and corrosion. "Being able to get such hands-on experience so soon in my college career opened many doors for me."
One incredible opportunity came about because a Freshman Studies mentor nominated Albery for a national award given to role models among minorities. And though 1,600 students across the country had been nominated, Albery was the only student selected. As an award winner, Albery was asked to attend an exclusive leadership conference in Maryland, which was paid for in full by Seton Hall.
Because of Seton Hall's prime location, Albery was also able to volunteer at the Liberty Science Center in Jersey City, N.J., where she helped run programs and activities that made science accessible to children. She also volunteered for three years at the Meadowlands Hospital Medical Center where she served as a translator and got to understand the inner workings of a hospital.
Seton Hall Career Highlights
Participant: Global Medical Brigades trip to Honduras
Peer adviser: Freshman Studies
Volunteer: Meadowlands Hospital Medical Center; Secaucus, NJ
Volunteer: Liberty Science Center; Jersey City, NJ
Participant: National Leadership Conference; Baltimore, MD
Honored: Minority Access, Inc., National Role Model
Member: Fellowship of Catholic University Students