The Hospitality of Advent: Daily Meditations from the School of Theology
Monday, November 20, 2023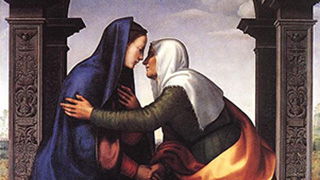 In the weeks leading up to Christmas, Catholics around the world will soon start preparing their hearts and minds to celebrate the birth of Jesus.
As we approach this Advent season full of hope, love and joy, Immaculate Conception Seminary School of Theology (ICSST) invites the Seton Hall University community and beyond to join in reflection and prayer as part of its annual Advent reflection series, this year themed "The Hospitality of Advent."
Now in its fifth year, the series will explore and consider how Mary, Joseph, Elizabeth, and other great figures of the Gospels and Church tradition welcomed Jesus into their hearts, and how we might follow their inspiring witness.
Daily reflections authored by members of the ICCST community will be delivered via e-mail, starting on the first Sunday of Advent, December 3, and continuing through Christmas Eve, December 24.
How might Jesus be beckoning us this Advent to a greater understanding and appreciation of God's desire to come to us, dwell within us, and be welcomed into our homes and hearts? How might this year's Advent be a journey of an ever-deepening hospitality of the heart? These questions – and many more – will be explored as part of the series.
"Each year, our Advent series provides a profound opportunity to bring those from near and far for prayerful, thoughtful reflection in the days leading up to Christmas," said Dianne Traflet, J.D., S.T.D., associate dean for graduate studies and administration and assistant professor of Pastoral Theology. "We invite all interested to join us as we deepen our understanding of the Divine hospitality and unconditional love of Jesus Christ."
To subscribe, please visit the Advent Series registration page.
Since 2019, ICSST has offered reflection series during the Advent and Lenten seasons, bringing more than 2,000 subscribers together including Seton Hall students, faculty, staff, administrators and other members of the surrounding community from near and far to join in a union of prayer and reflection during these key liturgical seasons.
About ICSST
Immaculate Conception Seminary is a House of Formation for the Roman Catholic priesthood and the School of Theology of Seton Hall University. As a House of Formation, the Seminary offers men preparing for the priesthood the personal, academic, ministerial, and spiritual formation essential for their conversion to Jesus Christ and for their commitment to a life of service to the Church.
As a School of Theology, the Seminary provides a theological and philosophical foundation for men and women pursuing undergraduate and graduate studies; preparing for ministries among the people of God; and varied opportunities for continuing theological education.
Forming priests for God's people has remained the Seminary's constant focus, and the Seminary faculty—well-educated authors and scholars in their own fields—devote their time and energy to preparing these men for priesthood amidst the challenges of the 21st century. The School also focuses on the education of lay men and women in theology, priests, permanent deacons, and religious brothers and sisters and not only providing academic studies, but also personal, pastoral, and spiritual formation.
Categories: Faith and Service