Leverage the Latest Technology in our Student Success Workshops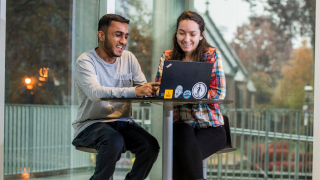 Students are invited to leverage the latest technology in our summer student success workshops. The virtual sessions will cover technology 101 at Seton Hall, including Blackboard, Outlook, Teams, OneDrive, and LinkedIn Learning. All sessions are held in the evenings throughout the summer. Register to receive the meeting link.
Blackboard 101
Blackboard is the primary program used to deliver all of Seton Hall's remote and HyFlex courses. Each course has its own Blackboard site—a complete virtual classroom environment where you will access course materials, communicate with instructors and classmates, submit assignments, and monitor your grades. This session is designed for students who are not yet familiar with Blackboard. We will review the most frequently used features and demonstrate how to successfully navigate your Blackboard course.
Microsoft Teams
In this introductory workshop, we will provide step-by-step guidance for participating in your courses via Teams.
Teams is used in many courses to connect students in a virtual classroom community. In Teams, you can share files, chat with classmates, collaborate on group projects, communicate with instructors, and present your work.
LinkedIn Learning
As a Seton Hall student, you have full access to LinkedIn Learning: an on-demand video library of over 13,000 lessons ranging from mastering Microsoft Excel to learning to play guitar. Whether you're aiming to build skills related to your coursework or try your hand at a new hobby, LinkedIn Learning has the training you need. In this workshop, we will emphasize searching by topic and creating learning paths and content collections.
Microsoft Outlook
Outlook makes it easy for you to create and organize emails, calendar events, reminders, meetings, birthdays, and so much more. Microsoft Outlook is part of the Microsoft 365 suite that brings your mail, calendar, and contacts together all in one place. Outlook will also store your contact information so it is easier to contact them in the future. We will demonstrate how to set up Outlook, and use each component to its fullest potential.
File Organization with OneDrive
Use OneDrive to save important files, share files with others, create a departmental repository, and sync files between multiple devices. Learn best practices in file management and organization by using OneDrive for Business. OneDrive for Business is a cloud storage, data hosting service that allows users to sync files and later access them from a web browser or mobile device.
What's new in Windows 11?
Windows 11 is the newest operating system by Microsoft that delivers many improvements over Windows 10, while keeping things simple. The layouts and menu items have been updated to reflect what people use most in Windows. The new design will help you complete tasks faster, while optimizing your computer resources. Join us as we dive deeper into what Windows 11 has to offer.
Categories: Science and Technology