Announcing Honorlock, an Online Exam Proctoring Tool
Thursday, June 17th, 2021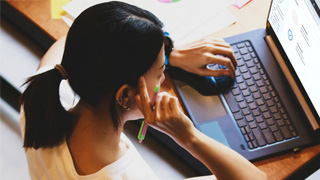 The Department of Information Technology is transitioning from our current online proctoring tools, RPNow and Respondus Lockdown Browser, and moving to an improved one stop proctoring solution, Honorlock. The new proctoring solution underwent an extensive pilot program, resulting in positive feedback from faculty and students.
Honorlock will provide the same functionality as RPNow and Respondus Lockdown Browser but with additional features for creating a flexible exam setting and profile. Creating exam expectations for additional time or due dates will now be a simple one step process.
Key features of Honorlock include:
Search and Destroy - Secure your online exam answers. The remote proctoring technology automatically removes your test content from the Internet and from sites like Chegg.
Multi Device Detection – The remote proctoring software prevents mobile devices from searching test answers online.
Integrates seamlessly with 3rd party exam such as McGraw-Hill, MyMathLab, etc.
Honorlock can be used for all assessments by either locking-down the student's browser or as a full proctoring solution. As with RPNow, students will be prompted for their ID and provide a room scan before their browser is locked down. All exams will be recorded and monitored using artificial intelligence technology and reports will be available within 24 hours. Honorlock is easily accessible within Blackboard. Students will complete exams using the Google Chrome browser by utilizing the Honorlock browser extension.
Since Honorlock is an improved one stop proctoring solution, the Department of Information Technology will no longer offer RPNow after August 7, 2021 or Respondus Lockdown Browser after July 31, 2021. To assist you in the transition to Honorlock we have compiled resources for faculty and students. And as always, instructional designers can provide assistance during this transition period.
Categories: Science and Technology