Holiday Cybersecurity Advisory
Monday, December 6th, 2021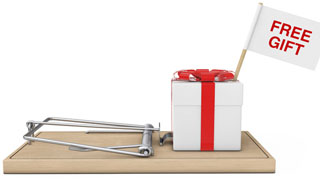 With Christmas approaching, it's the perfect time for scammers to steal your money, identity, or data. The Department of Information Technology is constantly advancing campus cybersecurity software, tools, and practices, but you need to remain vigilant in order to protect yourself. Here are some common scams that you should be on the lookout for:
The Prize: In this scam, a message may appear in an email, text message, or browser pop-up, claiming you won a prize. It is important to read the fine print and avoid entering any username, password, credit card, or banking information. Seton Hall will never ask for your social security number, password, or credit card through an email message.
The Gift Card: This scam may start with an email impersonating Seton Hall or an employee at the University. The sender will request that you purchase a gift card and share the redemption code or a picture of the card via email. Before responding to emails, check the sender information and any links before clicking or replying.
The Job Offer: These scams may range from internships to full-time employment, but they tend to appear at the end of the semester. There is typically a trial task that involves making a purchase, paying a bill, or transferring money. Never accept a job or internship that requires a money transfer or something similar. Be extra cautious with any job offer where you didn't apply.
These scams, and many like them, claim to benefit you in some way in exchange for personal information or money. If it seems too good to be true, it is. Don't enter your credentials into unknown sites, be cautious of interactions requesting the purchase of a gift card, and be cautious where you enter your personal information.
Report any suspected emails by clicking the Report Phish button in Outlook. If you ever need assistance, please contact the Technology Service Desk at (973) 275-2222 or [email protected].
Categories: Science and Technology