Changes to Duo App In October
Tuesday, September 28th, 2021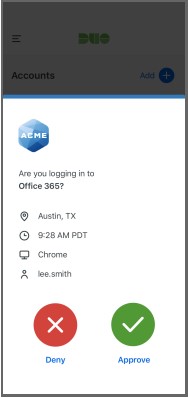 Duo plans to release a redesigned version of the Duo Mobile app for iOS and Android in fall 2021. The rolling release of version 4.0.0 of Duo Mobile is scheduled for the following timeframes:
For iOS: October 11 through 18, 2021.
For Android: October 11 through 15, 2021.
Version 4.0.0 of Duo Mobile will be released to users through Duo's usual process of pushing an update to the Apple App Store and Google Play Store.
What is changing?
Duo is introducing a redesigned version of its Duo Mobile app. This is the app you may use when you perform two-factor authentication to log in to PirateNet and various Seton Hall applications. The redesigned Duo Mobile is designed to make your login experience better by:
Updating the position of the Approve / Deny buttons so that Approve is on the right, a more natural location.
Improving the accessibility of the app, including adding a landscape view, variable font sizes, and improved color contrast.
Providing clear guidance on restoring your accounts if you get a new phone.
Making it easier to find and manage your accounts with a simpler interface.
Who can use the new features?
The updates are designed for newer versions of device software. However, if users aren't on the supported version of iOS or Android they will still be able to use the Duo app in the same way they do today. Users with a supported OS can take advantage of new features and see the updated interface.
What is not changing?
The core functionality of Duo Mobile is not changing. You will continue to be able to:
Receive a Duo Push.
Use passcodes.
Add, edit, reorder, and remove accounts.
Backup and restore accounts.
Use dark mode.
And anything else you can do in the current version of the app.
When the redesigned Duo Mobile launches, will I need to do anything?
It depends. If you have enabled automatic app updates on your device, Duo Mobile will update automatically.
You can also manually update Duo Mobile.
Will I need to restore my accounts or settings once Duo Mobile is updated?
No. All of your protected accounts will be automatically present in Duo Mobile after the update. You do not
need to re-add anything. In addition, all of your existing settings, such as for Duo Restore for third-party
accounts like Instagram or Facebook, will also carry over automatically
Categories: Science and Technology