Download your Adobe Education Exchange Course Certificates
Thursday, April 13th, 2023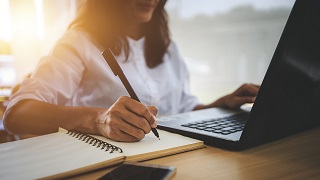 Adobe Education Exchange (EdEx) course certificates earned on or after May 1, 2023 will now be issued and available for download through Credly. Upon course completion, you'll receive an email from Credly with instructions on how to accept, share, and download your digital badge and certificate.
Locate and Download Your Current Certificates
Previously earned Adobe EdEx course certificates will no longer be available for download through the "My Education Exchange" professional learning dashboard. All users should follow the steps below to locate and download current course certificates by April 30, 2023.
Log into your "My Education Exchange" dashboard using your Seton Hall login credentials.
Click into each course.
Download the certificate file and type your name onto the file.
Click File > Print.
Select "Print to PDF" from the drop-down print options to "Save As" a digital file.
Explore Adobe Education Exchange
On Adobe Education Exchange, you can find free teaching and learning resources, like sample projects, lesson plans, and tips and tricks, as well as instant access to free courses.
Explore Adobe Education Exchange
Categories: Science and Technology