2023 Productivity Series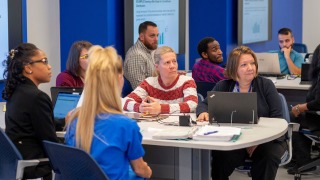 The Teaching, Learning and Technology Center is pleased to announce the 2023 Summer Productivity Series, hands-on workshops dedicated to the tools and strategies that enable you to optimize your workflow. Participants will learn how to increase productivity while using key programs such as Microsoft Teams and OneDrive for Business. We will also demonstrate how to keep your laptop up to date and discuss the impact of laptop health on overall efficiency and productivity.
The productivity series will be held on Tuesday, July 11 – Thursday, July 13, and repeat on Monday, July 31 – Wednesday, August 2. Faculty, administrators, and staff are invited to attend sessions either in person, in Space154, or virtually on Teams. View the full workshop schedule and the workshop descriptions below.
View All Productivity Series Workshops
---
Optimize your Laptop Health
Tuesday, July 11 at 10 a.m. | Wednesday, August 2 at 1 p.m.

Get ready for the upcoming semester by updating your laptop! Keeping your laptop secure and up to date is essential, especially as security concerns grow and new malicious threats are created every day. In this workshop, we will show you how to keep your laptop's health in top shape by performing Windows Updates, Lenovo System Updates, performing virus scans, and by updating common software such as Chrome, Firefox, and Microsoft 365 apps.
---
Microsoft Teams Collaboration
Tuesday, July 11 at 1 p.m. | Wednesday, August 2 at 10 a.m.

Microsoft Teams is a collaboration app that allows people to communicate, share files, create virtual meetings and post conversations amongst working groups. In this workshop, we will focus on the functionality of Microsoft Teams to help you complete everyday tasks.
---
Become Familiar with the Adobe Creative Cloud
Wednesday, July 12 at 10 a.m. | Monday, July 31 at 1 p.m.
This workshop will introduce you to the Adobe Creative Cloud. Access industry-leading creative desktop and mobile apps like Adobe Photoshop, Illustrator, InDesign, and many more. Use Adobe Express to edit images, videos, and pdfs, or create flyers, posters, logos, and so much more!
---
LinkedIn Learning: Educational Tutorials
Wednesday, July 12 at 1 p.m. | Monday, July 31 at 10 a.m.
As a member of the Seton Hall community, you have full access to LinkedIn Learning: an on-demand video library of over 16,000 lessons ranging from mastering Microsoft Excel to learning accounting. Whether you're aiming to build skills related to your daily tasks or trying to learn new skills to benefit you in the office, LinkedIn Learning has the training you need. In this workshop, we will focus on searching by topic and creating learning paths and content collections.
---
File Management with OneDrive for Business
Thursday, July 13 at 10 a.m. | Tuesday, August 1 at 1 p.m.
Learn best practices in file management and organization by using OneDrive for Business. OneDrive for Business is a cloud storage, data hosting service that allows users to sync files and later access them from a web browser or mobile device. Use OneDrive for Business to save important files, share files with others, create a departmental repository, and sync files between multiple devices.
---
Digital Collaboration with Microsoft SharePoint
Thursday, July 13 at 1 p.m. | Tuesday, August 1 at 10 a.m.
SharePoint has a similar interface as Microsoft365 and can be easily configured and adjusted by the user. You can use it for file sharing, web content management and document management. SharePoint also provides the benefit of a central location for storing and collaborating on documents, which can significantly reduce emails and duplicated work. It is also capable of keeping track of the different versions of documents created by different users. This workshop will cover the essentials needed to start using SharePoint today!
Categories: Science and Technology