PMPDPP Students Experience Medical School
Wednesday, March 22, 2023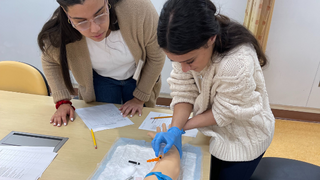 PMPDPP students practicing the process for drawing blood at Rutgers Robert Wood Johnson Medical School
Pre-Medical/Pre-Dental Plus Program (PMPDPP) students participated in a "sneak peek" into life as a medical school student during visits to Rowan-Virtua School of Osteopathic Medicine (Stratford and Sewell campuses), Rutgers Robert Wood Johnson Medical School, and Hackensack Meridian School of Medicine during their 2023 Spring Break Professional Tour.
Their experiences included presentations from the Director of Admissions, campus tours, workshops, discussions with current medical students, sitting in on medical school classes, and visiting the cadaver lab, as well as options for financing medical school. They also participated in hands-on experiences ranging from practicing the process for drawing blood and how to place an intravenous line, to solving a Problem-based Learning (PBL) clinical case presentation.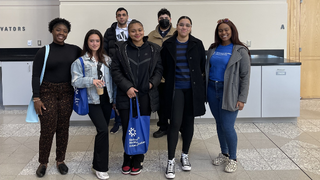 PMPDPP students at Hackensack Meridian School of Medicine, Nutley, NJ
Such opportunities provide students with networking and emotional support that goes beyond the classroom experience. As Assistant Director of the Pre-Medical/Pre-Dental Plus Program, Brittany Morris described, "Providing this opportunity for our students to tour and learn about the different schools in New Jersey and being able to witness their perspectives and horizons broaden was remarkable."
PMPDPP junior Ahmad Edris shared, "My favorite part of the day was having the opportunity to observe some medical students interact in their classrooms with their professors. It made me realize that medical students are normal people, like you and me. Every one of us, despite any disadvantages or challenges, can reach our goal as long as we persevere." As sophomore, Messiah Curtis commented as well, "I enjoyed the experience…This trip opened my eyes to the different tracks schools offer…I look forward to applying one day." Students also expressed gaining insight on each school's mission, culture, and level of supportiveness of peers toward each other, as well as the focus relative to the community.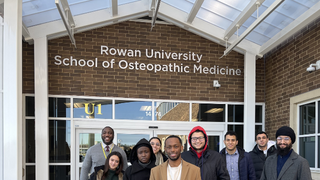 PMPDPP students at Rowan University School of Osteopathic Medicine (Rowan-Virtua)
For more than 50 years, the Pre-Medical/Pre-Dental Plus Program has focused on exposing students to fields and experiences that may previously have been out of reach due to lack of financial affordability or social capital. As an integral component in the successful outcome of numerous physicians, dentists, and other health-related professionals, it is committed to the education of qualified students from historically underrepresented backgrounds and working in partnership with them in their pursuit of an optimal undergraduate education, leading to the preparation of study in the medical, veterinary, dental or other health-related, non-nursing field, as well as graduate level programs which lead to such careers. For more information, please email [email protected]
Categories: Health and Medicine